DJ suffers 'career-threatening' ear injury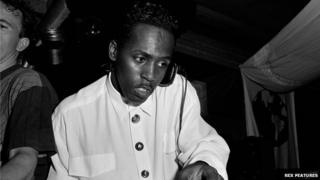 An influential DJ says his career may be now at risk after a compressed air horn was let off near him while he was performing a sound check in Manchester.
Lil Louis was to have appeared at Sankeys nightclub on 24 January but ended up in hospital after an unnamed "idiot... decided to show off a new toy... 12 inches from my left ear".
The unidentified person, the DJ said on Facebook, "may have ended my career".
The star, real name Louis Sims, is best known for his 1989 hit French Kiss.
The song, which featured vocals by Shawn Christopher, reached number two in the UK singles chart.
"The compressed air that blasted out of the cannon was louder and more shrill than anything I'd ever heard," the DJ continued. "It hurt so bad, I jumped in the air and screamed.
"The pain was followed by an intense ringing and muffled silence. The left side of the room went dead, and I couldn't hear anything except that ring.
"I was taken to the hospital, where I spent the night being passed around a bevy of doctors including an [ear, nose and throat] specialist.
"I was diagnosed with SIHL (sound induced hearing loss), a permanent hearing loss, and given a strong steroid medication."
Lil Louis went on to say he was not able to walk straight or hold down food before saying: "I don't know what will come of this."