Rae Morris: The pop star who wanted to be a waitress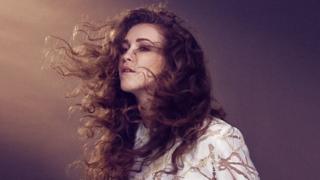 Growing up in the shadow of Blackpool's Pleasure Beach influenced Rae Morris's "dark and brooding" music, she says. As she releases her debut album Unguarded, the 21-year-old tells the BBC: "I can do anything I want now."
It is safe to say that Rae Morris is excited to see her album in the shops.
"I couldn't be more excited if I was getting married," she beams. "It feels like a wedding day."
The release date has been a long time coming. Morris was signed to Atlantic Records in 2011, aged 17. Since then, she confesses, "the years have mounted up".
Not that she has been lazy - three EPs, seven singles and collaborations with Clean Bandit and Bombay Bicycle Club are proof of that.
Instead, Morris was deliberately given space to "figure out who I am".
"When I was signed, Atlantic said to me, 'You've got a lot of work to do,'" she recalls. "I liked that about the label - they understood where I had to get to."
She has slowly paid her dues - playing obscure festival stages and supporting the likes of George Ezra, all while sharpening her songwriting skills and learning valuable lessons about tour catering.
"George didn't have catering on his tour but Bombay Bicycle Club's was really good. I'd always get them to save me a dessert to have after the show," she recalls.
"I'd be racing through my set like, quick I want to get off and have my apple pie!"
Football focus
Frizzy of hair and breathy of vocal, the singer was born Rachel Anne Morris in 1992.
Her stage name isn't a contraction of Rachel but a tribute to her grandfather Raymond - a carpenter who died before she was born.
As a child, she never sang into a hairbrush, having harboured much more modest ambitions.
"I'd pretend to be a waitress and get my mum to order something," she laughs. "I was never attracted to being in the limelight."
Years later, she actually became a waitress, working in the "fancy" executive boxes at Blackpool FC.
It was a "weird" first job for someone who had no interest in the game, she admits.
"I don't follow football. They sounded like they were having a good go, though."
Although she studied piano from the age of four, Morris only realised music was a potential career option when she saw fellow Blackpudlian Karima Francis on Later... with Jools Holland in 2009. (Francis, who later became a mentor, gets a credit for "leading me to the start line" on the sleeve of Morris's album.)
One of Morris's early champions was Sean McGinty, presenter of BBC Introducing Lancashire - "I think I stalked him a little," she says - who put her forward to play at the Reading and Leeds festivals.
Record labels duly came knocking, just as Morris was about to depart for Leeds College of Music.
"At the time I pretended it was a hard decision so my mum and dad felt like I was considering other options," she says.
"But it wasn't a decision. It was everything that I wanted."
Morris released her first single, Don't Go, in 2012. A stripped-back piano ballad, it is utterly, hopelessly miserable.
The singer agrees she tends towards the melancholy, saying: "It takes a lot for me to write a major key song.
"I love the black keys - not the band, but the actual black keys. There's an interesting thing that happens up there."
She says her "dark and brooding" style was inspired by growing up Blackpool.
"I grew up near Stanley Park and the zoo," she says. "So I wasn't near the seafront all the time - but if I do go to the seafront I feel a heaviness.
"The cloud is always down and there's always a wind, even on the warmest day. The shutters and the graffiti and the faded glory of it."
Diary entries
Counter-intuitively, then, her album was recorded over three months in Los Angeles, overseen by Haim and Vampire Weekend producer Ariel Rechtshaid.
His main job, she says, was to stop everyone panicking.
"I'd made three EPs and I was thinking, 'We need to step it up'. The album was being over-thought and he was the first person who realised it needed to be simple.
"When I met him, he said we needed to get amazing musicians into a wonderful studio and just record what I was doing.
"He was just like, 'We do what's right for the song.'"
Consequently, Don't Go and For You - which dates back to Morris's first ever demo tape - were given a subtle overhaul, while newer compositions such as Under The Shadows gained a percussive thump that challenges and compliments the singer's powerhouse vocals.
The resulting record is a "coming-of-age tale", says Morris. "A series of diary entries documenting those important years of growing up and learning."
She says: "I was always very conscious of making sure people know who I am, and I think this record does that. It sets the tone and it means I can do anything I want now - because people can always reference back!"
The title track, Unguarded, was written right at the end of recording sessions and finds the singer raising her head from the fug of making her debut album.
"I have a future in mind for us, where we will be... unguarded in love," she sings over a haunting Kalimba figure.
Explaining the lyric, she says: "The last four years have been focussed on music, and it always comes first.
"In a way, that song is about a time when something else could be as important as that."
So can she envisage a day where she'll have an actual wedding, rather than an album launch that just feels like one?
"Oh, I very much doubt I'll get married," she says. "I'm really content with my selfishness at the moment."
Unguarded is out now on Atlantic Records