The Hard Problem: mixed reviews for new Tom Stoppard play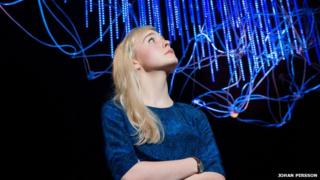 Tom Stoppard's new play The Hard Problem has opened at the National Theatre to mixed reviews.
The play, which poses big questions about the nature of consciousness, is Stoppard's first at the NT since 2002.
The story centres around psychology researcher Hilary (Olivia Vinall) and her work at a brain science institute.
The Guardian's four-star review described The Hard Problem as a "stimulating work".
"Even if the play occasionally suffers from information overload, it is still a rich, ideas-packed work that offers a defence of goodness whatever its ultimate source," wrote its critic Michael Billington.
The play, at the Dorfman theatre, is the last to be directed by Sir Nicholas Hytner, who steps down at the NT later this year.
The Evening Standard's Henry Hitchings also awarded four stars, noting Bob Crowley's stage design "dominated by a tangled mass of cables that simulates the complex wiring of the brain and shimmers with light between scenes".
"Elegantly interpreted by Nicholas Hytner, in his final production as artistic director of the National Theatre, the play feels delicate and precise," he said.
The Independent's Paul Taylor wrote in his three-star review: "Hytner directs an elegant, incisive account of a piece that buzzes with complex ideas, passionately and wittily expressed, but which never quite exerts a strong enough grip as drama."
He went on: "As always with Stoppard, there is much to ponder but, apart from Hilary, all the very well-acted characters feel two-dimensional, and the play hasn't transmuted its research into an emotionally satisfying whole."
Libby Purves, on her Theatre Cat blog, praised Olivia Vinall's central performance: "Not just (though she is) a creature of pale ethereal beauty, but a force fit to hold a play together. She has been Juliet, Desdemona, Cordelia: it is a revelation to see her playing a modern young professional woman with a fierce and troubled intelligence, dartingly sharp timing and a visible, unsentimentally profound private sorrow."
But The Telegraph's Dominic Cavendish found the play "a major disappointment" and awarded two stars.
"At times I had to pinch myself that it was written by the great man himself; and at others moments I almost had to pinch myself to stay awake. Even though it's only 100 minutes long, at points it drags and even bores," he opined.
"With The Hard Problem, Hytner has got a footnote, not a magnum opus. Stoppard's formidable legacy is assured but it won't rest on this."
The Hard Problem is at the Dorfman theatre until 27 May and on NT Live in cinemas on 16 April.