Ofcom says subtitles can make live TV 'unwatchable'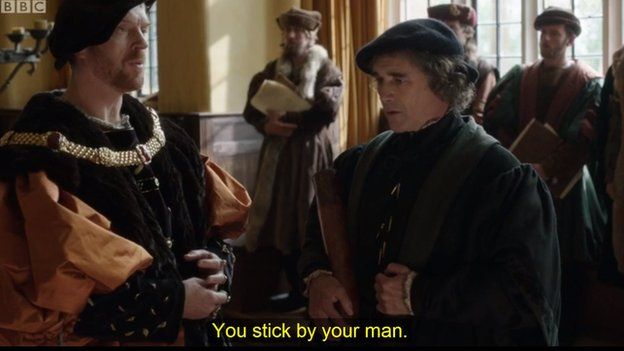 TV viewers who are deaf or hard of hearing are being left baffled by subtitles, broadcasting watchdog Ofcom has said.
A report on subtitling services found the Star Wars character Princess Leia being called "Present Cesc lay ya" and lemon transcribed as "lepl on".
Ofcom said those who needed the service often had an "inferior" experience.
User feedback said live subtitles made viewing "frustrating, and, on occasion, unwatchable," it added.
The report highlighted "serious recognition errors" in subtitling software, which led to mistakes such as the phrase "be given to our toddlers" translated as "be given to ayatollahs".
Other mix-ups included "sources" becoming "sauces" and "they need a mum" mis-reported as "they need a man".
By William Mager, series producer, See Hear
Broadly speaking, there are two types of subtitling - pre-recorded and live. Pre-recorded subtitles are usually created by people with stenography skills who can type quickly and accurately using either a standard or specialist keyboard. These subtitles can be tweaked and edited for timing and positioning, and are accurate, impeccably timed and give deaf and hard of hearing viewers complete access to a programme.
However, live subtitling, as seen mostly on the news, sporting events and other programmes which are going out live, requires an entirely different skillset - a person with good ears, a clear speaking voice and specially 'trained' voice recognition software.
These live subtitlers sit in a soundproofed room, watching the TV feed and 're-speak' the words from the programme clearly and deliberately into a microphone. The computer, which over time has come to accurately recognise the live subtitler's voice, then translates their spoken words into text on screen.
Problems usually arise with complex jargon, or unusual names of people and places - Manchester United footballer Adnan Januzaj famously became Janet Jazz Jazz Jam for example.
The BBC is working on new automated subtitling technology - but for now, re-speaking, while not infallible, is still the best method available.
The report said 155 BBC shows needed live subtitles, with 53 on ITV, including popular programmes such as The Jeremy Kyle Show, The Graham Norton Show and Top Gear.
The issue was previously taken up by former home secretary David Blunkett, who criticised subtitling standards and quoted an example from football commentary where Manchester United's Patrice Evra's challenge on an opponent was rendered as "the Arsenal player has been fouled by a zebra".
Ofcom's report said: "Live subtitling entails unavoidable delays which mean that speech and subtitling cannot be completely synchronised. Errors and omissions are also not uncommon."
Rob Burley, of Action on Hearing Loss, said: "With one in six people in the UK having some form of hearing loss, it's really important that the standard of subtitling improves."
"Our research shows that people with hearing loss find delays and inaccuracies are the biggest problems when using live subtitles, with simple mistakes changing the entire meaning of a news item or interview."
A spokesman for the watchdog said: "Improving the quality of subtitles for deaf and hard-of-hearing viewers is an important focus for Ofcom.
"We now require broadcasters to measure the quality of live TV subtitles, which is helping us to identify how their speed and accuracy can be improved."
Related Internet Links
The BBC is not responsible for the content of external sites.