Brits 'rigged' claims Noel Gallagher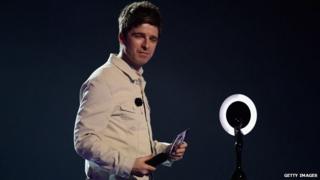 Former Oasis star Noel Gallagher has accused the Brits of being "rigged" to the detriment of independent artists.
"I'm an independent artist and we get shafted by people at the Brits," the musician told the BBC's Colin Paterson.
"You won't see an independent artist [among the nominees], unless they sell 50 million records and it becomes an impossibility to leave them out."
The annual ceremony, he claimed, was "a bit of a carve-up between the majors" - though he said he still enjoyed going.
"Don't let this put you off giving me a table," he continued. "I like award ceremonies and all that social scene - it's a good laugh."
Gallagher, who now performs with his High Flying Birds band, cited Kasabian's omission from this year's nominations as particularly egregious.
"If Kasabian don't fulfil the criteria for one of the best groups, what is that saying?" he said of the Leicester-based rockers.
His comments follow a claim by Kasabian's Sergio Pizzorno that the band were victims of a Brits "conspiracy" against "working class rock 'n' roll bands".
A spokeswoman for the Brit Awards said: "Over 1,000 music enthusiasts which include representation from all sectors of the music industry (record labels, publishers, managers, agents, media, NUS Ents officers along with the 'Artist' sector) are invited to be official Brits Voting Academy members.
"In order to ensure the integrity of the vote, the voting process is managed and scrutinised by Electoral Reform Services (ERS)."
Kasabian were nominated nine times between 2005 and 2012 and were named best British group in 2010.
Noel Gallagher's High Flying Birds performed at the 2012 ceremony, at which he was nominated for the best male award.
Oasis won five Brits and a lifetime achievement award prior to the band's disintegration in 2009.
Sam Smith leads the field at this year's Brit Awards, having been nominated in five categories.
Ant and Dec will host the ceremony, which takes place in London's O2 arena on 25 February.
Noel Gallagher's High Flying Birds were confirmed on Monday as the headline act at the Calling festival on London's Clapham Common on 4 July.