Robin Williams family fights over comedian's estate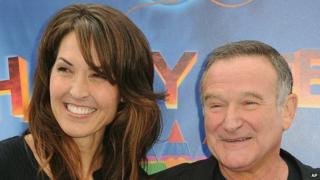 Robin Williams' widow and children have gone to court in a dispute over the late comedian's estate.
In papers filed in December in San Francisco Superior Court, Williams' wife Susan accused his children of taking items without her permission.
The children - Zachary, Zelda and Cody - argued that Susan Williams was "adding insult to a terrible injury" by trying to change their trust agreement.
The dispute involves items Williams kept at two homes and in storage.
Susan Williams has requested that the contents of the home she shared with her husband be excluded from the jewellery, memorabilia and other items her husband said his children should have.
Williams' children have taken issue with this suggestion, saying there should be no limits placed on the items to which they are entitled.
Items in dispute include the actor's collection of watches and the Oscar statuette he won in 1998 for Good Will Hunting.
The star committed suicide at his home in Tiburon, California, in August 2014.