Michelangelo mystery: Sketches may reveal sculpture secret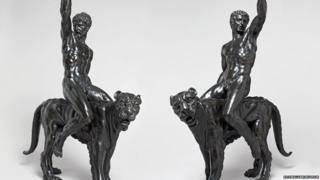 Two triumphantly naked men riding bareback on ferocious panthers - these bronze sculptures may actually be by Michelangelo.
Researchers led by Cambridge University experts have attributed the bronzes to the great 16th Century sculptor after piecing together a puzzle of Renaissance art.
The bronzes have most recently been attributed to Dutch sculptor Willem Danielsz Van Tetrodeand and the 19th Century belief the sculptures were by Michelangelo had been dismissed by experts for at least a century.
Since then they have changed hands several times, and each time have been attributed to a different artist.
The link to Michelangelo resurfaced last year when their anonymous owner approached Paul Joannides, a professor of art history at Cambridge University.
He was instantly reminded of obscure sketches by one of Michelangelo's apprentices, which he had come across at the Musée Fabre in Montpellier, France.
The apprentice is thought to have copied the drawings his teacher had sketched when preparing to make the sculpture.
A "groundbreaking" project led by Cambridge University went on to compare the bronzes with other works by Michelangelo and found them to be very similar in style and anatomy to his works of 1500-1510.
Using X-ray, the team established that the cast was thick-walled and heavy - an indication that they date to the late 15th or early 16th Centuries.
Research is continuing and the final conclusion will be presented in July.
Experts said no other artist living at the time of their creation had such anatomical knowledge or the ability to depict male muscles.
Long admired for the beauty of their anatomy and powerful expression, the sculptures, which date to about 1508, were first recorded in the 19th Century, when they appeared in the Paris collection of Baron Adolphe de Rothschild.
The bronzes, which are currently on loan to the Fitzwilliam Museum from a private collection, will be on display until 9 August.