Five Monet works sell for £55m in one hour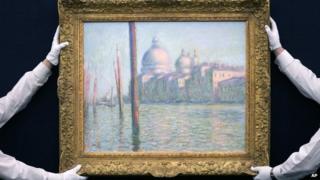 Five paintings by Monet sold across one hour have contributed to Sotheby's "highest ever" sales record in London.
Tuesday's impressionist and modern art sale, which also included other famous artists' works, fetched a total of £186m.
The five Monet pictures sold for a collective £55.7m.
The French impressionist's Le Grand Canal from his celebrated Venice series was the night's top earner, achieving £23m.
The 271-year-old auction house said buyers originated from 35 countries.
But it was collectors from Asia and Russia that asserted themselves "as a continued force in the market," Sotheby's Helena Newman said.
The Monet paintings sold in one hour:
Le Grand Canal (£23m
Les Peupliers (£10.7m)
L'Embarcadère,(£10.2m)
Antibes vu de la Salis (£8.7m)
Vase de Pivoines (£2,2m),
---
One of the five Monet pieces sold included Les Peupliers a Giverny, which was on offer for the first time from the collection of the Museum of Modern Art in New York, and sold for £10.7m.
Other works featured in the auction included Matisse's Odalisque au fauteuil noir picture, a portrait of the great grand-daughter of the last Sultan of Turkey, fetching £15.6m.
An owl sculpture called Chouette, which was hand-painted by Pablo Picasso and inspired by his own pet owl, also sold for £1.2m.
The £7.7m paid for a drawing by Georges Seurat - which was a study for his oil painting Une baignade, Asnieres - was a record for a work by the artist on paper, Sotheby's said.
A rare piece by Toulouse-Lautrec (Au Lit: Le Baiser) from 1892, which has not been on sale before or been exhibited publicly for more than four decades, sold for £10.7m.
"We're delighted to launch the first sale season of 2015 with a new high for art auctions in London - the highest sale total ever achieved in any category," Ms Newman said.
Tonight, Christies will be begin its auction of impressionist and modern art in London.
It will feature masterpieces from the greatest artists of the late 19th and 20th Century, led by Paul Cezanne's landscape Vue sur L'Estaque et le Chateau d'If.