Rihanna: Topshop ordered to pay star's legal costs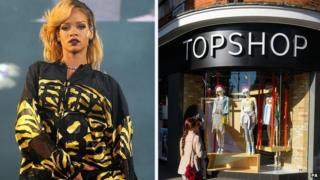 Topshop has been ordered to pay Rihanna's legal costs following a two-year battle over a T-shirt bearing her image.
The singer successfully sued the store for £3.3m in 2013 for selling the sleeveless top without her permission.
Topshop and its parent company Arcadia had disputed paying the legal bill - estimated at about £1m - arguing there was "no proper basis" to force them.
But appeal judges ruled the order was "reasonable", dismissing the challenge.
The order comes weeks after the Court of Appeal upheld a ban on the store selling the T-shirts.
In July 2013, High Court judge Mr Justice Birss found Topshop guilty of unlawfully passing off Rihanna's image, taken during a video shoot for her hit We Found Love in 2011.
The singer's lawyer successfully argued her fans would have been deceived into buying the top because of a "false belief" it had been approved by the singer.
He said it was damaging to her "goodwill" and represented a loss of control over the singer's reputation in the "fashion sphere".
Arcadia, whose own legal costs for the trial amounted to just £350,000, had asked three appeal judges to overturn the legal bill order.
The clothing chain had been told to pay the costs, even though the judge in the original case said he found the size of the bill "startling" and "somewhat surprising".