Berlin Film Festival: Juliette Binoche opens 65th event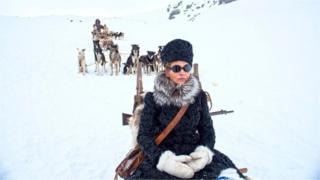 A film starring Juliette Binoche as an Arctic explorer will open the 65th Berlin Film Festival on Thursday.
Nobody Wants the Night is one of 19 films vying for the Golden Bear, the festival's top prize.
Other films in contention include Werner Herzog's Queen of the Desert, starring Nicole Kidman as Gertrude Bell and Robert Pattinson as TE Lawrence.
Films by reclusive US filmmaker Terrence Malick and Britain's Peter Greenaway will also compete.
Kenneth Branagh's live action version of Cinderella - starring Cate Blanchett as the wicked stepmother - will screen out of competition, as will the long-awaited film adaptation of EL James' best-seller 50 Shades of Grey.
Sir Ian McKellen's take on an ageing Sherlock Holmes will also play out of competition. Mr Holmes, directed by Dreamgirls' Bill Condon, focuses on the enigmatic detective in retirement. Sir Ian previously worked with Condon on the 1998 film Gods and Monsters.
There will be a special gala screening of Woman in Gold, starring Dame Helen Mirren as the late Maria Altmann, who successfully fought the Austrian government in her bid to reclaim the Gustav Klimt paintings stolen from her family by the Nazis.
The film, directed by My Week with Marilyn's Simon Curtis, co-stars Ryan Reynolds, Katie Holmes and Downfall's Daniel Bruhl.
Spanish director Isabel Coixet is only the second woman to open the festival and one of three female directors in competition at the Berlinale - Europe's first major film event of the year.
This year's competition selection is considered more populist than previous years. Two German film-makers who have found international success compete for the Golden Bear with their latest offerings.
Wenders directs James Franco in Everything Will Be Fine, about a man who knocks down a child in his car and Oliver Hirschbiegel will be hoping to overcome the humiliation of his Princess Diana biopic with Elser - also known as 13 Minutes - about the man who tried to kill Hitler in 1939.
Malick's Knight of Cups stars Natalie Portman, Cate Blanchett and Christian Bale in a story of disillusionment in Hollywood, while Peter Greenaway's Eisenstein in Guanajuato follows Russian film-maker Sergio Eisenstein "who travels to Mexico filled with the hubris of being an internationally celebrated star director".
Andrew Haigh - also representing Britain - directs Sir Tom Courtenay and Charlotte Rampling in 45 Years, about a long marriage challenged by an unexpected event.
From China comes Gone with the Bullets. Directed and starring China's Jiang Wen, it is the sequel to the country's comedy hit Let the Bullets Fly. Dissident director Jafar Panahi will present Taxi, the Iranian third film since he was slapped with an official filmmaking ban in 2010.
The jury - including the likes of Daniel Bruhl and Matthew Weiner - will be headed by director Darren Aronofsky.