Ali Smith novel How to be Both up for £40,000 Folio Prize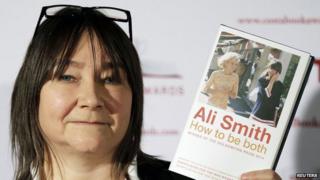 Ali Smith's How to be Both, winner of the Costa novel award and Goldsmiths Prize for original fiction, has been shortlisted for another honour.
The novel, which tells of a teenage girl in the present day and an Italian artist in the 1460s, is one of eight titles up for the 2015 Folio Prize.
Works by Ireland's Colm Toibin, US writer Ben Lerner and Kenya's Yvonne Adhiambo Owuor also make the shortlist.
The £40,000 prize is open to English-language writers from around the world.
The inaugural Folio Prize was won last year by Tenth of December, a short story collection by American writer George Saunders.
This year's winner will be announced on 23 March.
Lerner's second novel 10:04, Toibin's novel Nora Webster and Owuor's novel Dust are joined by Family Life, by Indian-born author Akhil Sharma, and Dept of Speculation, by US writer Jenny Offill.
All My Puny Sorrows, by Canadian writer Miriam Toews, and Outline, by the Canadian-born, UK-based Rachel Cusk, complete this year's shortlist.
---
Analysis: Rebecca Jones, arts correspondent
This is a much more diverse shortlist than the one announced last year, which was dominated by American novelists. It features five women and three men, from Kenya, India, Ireland and Britain as well as the United States.
Former literary prize winners including Inverness-born Ali Smith and Colm Toibin rub shoulders with less familiar names such as Akhil Sharma. Born in Delhi and now living in New York, it took him 13 years to write Family Life, which is his second novel and explores the immigrant experience.
In drawing up the shortlist, the judges said they paid no attention to a writer's biography, their track record or where they came from. The chairman, writer William Fiennes, said it was really important to "open up the space for marginalised voices," but he was not sure that The Folio Prize was the place to do that.
So on this occasion he was interested only in "rewarding excellence."
But he did add that if the shortlist "had turned out to be eight white men from Brooklyn, we would have all felt a bit sheepish." His comments made publishers and journalists laugh as the eight titles were announced at the British Library.
Fiennes went on to say that all the books that had been selected explore huge and varied themes, including "war, grief, family life, love, loss, the making and the mystery of art".
---
The books, said chair of judges William Fiennes, "explore vast themes - time, loss, belonging, war, solitude, marriage and family, the making and the mystery of art - with amazing vitality and grace.
"We're excited by the range of ideas, voices and approaches represented here, and by the way our shortlist shows the novel refreshing itself, reaching out for new shapes and strategies, still discovering what it might be, what it might do."
The Folio Prize is part of a literary awards landscape that also contains the £50,000 Man Booker, the £30,000 Bailey's Women's Prize for Fiction (formerly the Orange Prize), the £30,000 Costa book of the year and the £10,000 Goldsmiths Prize.
How to be Both, a Booker nominee, received the latter as well as the Costa novel award but was pipped to the Costa book of the year title by Helen Macdonald's memoir H is for Hawk.