Brandi Carlile finds her rock and roll voice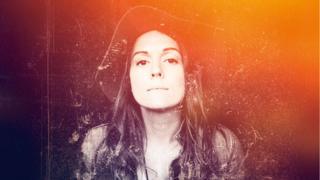 Singer-songwriter Brandi Carlile has been categorised as a pop, rock, country and folk artist, since releasing her debut self-titled album in 2005. Ten years later, as she prepares for the release of The Firewatcher's Daughter - her fifth record - Carlile hopes she's captured the raw, reckless and powerful sound of true rock and roll.
"[The musician and record producer] T Bone Burnett said always to call your music rock 'n' roll because it's always derived from it," says Carlile.
"I've since come to identify rock 'n' roll as being able to encompass that moment of erratic, reckless abandon that can happen when you don't have any command over a song just yet, but you know it well enough to play it.
"[This album] can definitely be a genre-bending experience. But if the songs qualify for having that moment then I would call this a rock 'n' roll album," she adds.
Best known for her 2007 track The Story from the album of the same name produced by Burnett, Carlile first gained attention in the US when Rolling Stone magazine named her in its 10 Artists to Watch in 2005 list.
She went on to enjoy both critical and commercial success, achieving top 40 hits, collaborating with Elton John and the Indigo Girls and supporting Tori Amos and Ray Lamontagne, among others, on tour.
She's also worked alongside Grammy Award-winning producer Rick Rubin, who produced her US Top 40 album, Give Up The Ghost, in 2009.
"Working with Rubin had a lot of challenges for me," she says.
"Needing approval became the album. It made the album really special but it wasn't the direction we wanted to take this or the last album.
"I learned musical things from Rubin and philosophical things from Burnett and I wouldn't trade any of it.
"My goal now is taking the music on the road, taking it to the people."
The Firewatcher's Daughter is an album of new beginnings in many ways for Carlile, whose wife, Catherine Shepherd was nine months pregnant when it was recorded. The pair married in 2012.
And after 10 years signed to Columbia Records, the 33-year-old from small-town Seattle has found a new home with New York indie label, ATO Records.
The departure, she says, afforded her "the luxury of not having to prove the songs before they lived".
"I believe that without exception every song has a peak moment.
"There was a time in the 1960s and 70s when [the peak moment] was always captured on an album because a lot of writing took place in the studio and a lot of spontaneous and accidental things would happen to the songs.
"The last four albums have been on Columbia. I don't want to say that influenced them in a direct way but it definitely influenced the environment in which they were created, particularly the concept of having to see songs through to their logical conclusion before recording them."
The move away from Columbia also changed her mindset from a corporate to a band mindset and she switched her allegiances to long-time collaborators, twin brothers Tim and Phil Hanseroth, who she met while busking and singing in bars as a teenager in Seattle.
"They were in a rock and roll band called the Fighting Machinists," says Carlile.
"I wanted to plug in and they wanted to unplug and we met in that contradiction of both of us trying to do something we hadn't done before."
It's a unique relationship; while it's Carlile's name up in lights, the twins are constant cogs in her musical wheel, writing and touring with her for more than a decade.
Financially, they divide their success equally, regardless of who contributes what.
"They love their role in the band. If this band were called Phil and Tim Hanseroth and That Bar Singer, then I would want to be in the band!
"What we're prioritising is the music. No one does any better than anybody else."
Music has always been Carlile's focus. The daughter of a country singer, she recalls looking forward to her mother's band's rehearsals at her home when she'd get the chance to sing at the end of the night.
After joining a children's theatre group she began songwriting around the age of 12, heavily influenced by the lyrics of Elton John, Bernie Taupin and the Indigo Girls.
An entrepreneurial spirit was evident in her teens when she selected restaurants in Seattle that didn't have live music, telling the owners she'd play for free if they'd give her a regular slot.
During these "residencies", she'd go around the tables on her break, taking the names and emails of guests.
"Once a month I'd book a proper gig and invite all the people I'd met. Eventually word got out that there was a girl selling out [these big venues].
"But it was all restaurant people, they weren't even music fans, they were just mums and dads who got a babysitter," she says, laughing.
Carlile is looking forward to playing two dates in London this week with plans for a UK-wide tour in the pipeline.
It's almost five years since her last attempt to bring her music this side of the Atlantic failed in a terrible case of bad luck, when the Icelandic volcanic ash cloud grounded thousands of flights, forcing her to cancel her tour.
"Quite frankly, we can get ourselves to the UK now. [In 2010] it was going to take a financial machine that we didn't have," she says.
A long-time fan of British music, she cites Queen and the Brit Pop bands of the 1990s among her influences.
But the UK has attained a particularly special place in Carlile's heart in more recent years, following her marriage to Shepherd - who's from London - in 2012 and the birth of their daughter, Evangeline, last year.
"I want to change the narrative of 2010 when we had to cancel those dates. We're prepared to take the leap now and get involved because the UK is a really important place to us."
The Firewatcher's Daughter is released on 2 March on ATO Records.
Brandi Carlile is performing at the Union Chapel in London on 12 and 13 February.