Ex-Sony head Amy Pascal discusses 'horrible' cyber attack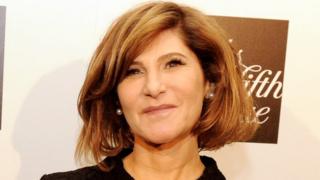 The former co-chairman of Sony Pictures has spoken for the first time about the cyber attack on the studio that revealed her private emails.
"There was this horrible moment when I realised there was absolutely nothing I could do," Amy Pascal told the Women in the World conference in San Francisco.
Yet the 56-year-old said the damage had not been as bad as had been reported.
"Everybody understood, because we live in this weird thing called Hollywood," she told journalist Tina Brown.
"If we all actually were nice, it wouldn't work."
In one email exchange with Pascal, film producer Scott Rudin labelled the actress Angelina Jolie a "minimally talented spoiled brat".
Yet Pascal, who stepped down from her role last week, said the film star "didn't care" about the comment.
She also addressed accusations that Jennifer Lawrence was underpaid for her role in the film American Hustle, saying she had "paid [her] a lot more money since then, I promise you."
"Here's the problem: I run a business," she continued. "People want to work for less money, I pay them less money."
"Women shouldn't work for less money. They should know what they're worth. Women shouldn't take less. 'Stop, you don't need the job that bad.'"
She said she had learned a lot from the hack about how to relate to people.
"You should always say exactly what you think directly to people all the time," she said. "In the moment, the first time."
Brown said this might be hard to do given how vulnerable Hollywood stars can be.
Pascal replied sarcastically: "They're bottomless pits of need. You've never seen anything like it."
Speaking on Wednesday, the former executive made light of her presence at Brown's three-day event.
"All the women here are doing incredible things in this world," she said. "All I did was get fired."
The 56-year-old plans to launch her own production company and will be involved in Sony's next Spider-Man film, scheduled for release in 2017.
"I'm looking forward to it [but] I'm scared," she admitted. "[56] is not exactly a time you want to start all over again, but it's kind of great I have to."