David Byrne to curate 2015 Meltdown Festival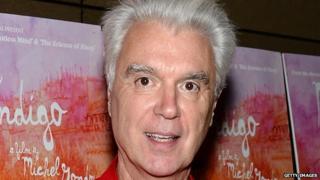 Talking Heads co-founder David Byrne is to curate this year's Meltdown Festival at London's Southbank Centre.
The 62-year-old singer said it would be "exciting" to follow in the footsteps of fellow music stars such as Jarvis Cocker, David Bowie, and Ray Davies.
"I plan to invite performers I've seen... and others I've missed or have dreamed of seeing," he continued.
Jude Kelly, artistic director at the Southbank Centre, said he would be "a perfect Meltdown director".
"All of us are thrilled at the prospect of his musicality and terrific brain power being used to curate our great and historical festival."
Now in its 22nd year, the festival - traditionally an eclectic mix of music, film, performance and art - will run from 17 to 28 August.
"It's going to be a bit of fun puzzle-solving I imagine - seeing who's interested, who is available and what venues at Southbank Centre are appropriate," said Byrne.
"I really hope to find things that take this beyond sit-down concerts as well - but of course I'm speaking way too early as I'm still working on my wish list."
The singer has experience of London's South Bank, having devised Here Lies Love, a disco-themed musical about Imelda Marcos, for the National Theatre last year.