Dan Brown's Inferno is UK's most-borrowed novel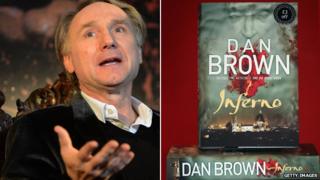 Inferno, the latest thriller by Da Vinci Code author Dan Brown, was the most-borrowed book in UK libraries last year, new figures reveal.
The novel, which follows the continuing adventures of symbologist Robert Langdon, captured readers' imaginations despite terrible reviews.
James Patterson was the most-borrowed author overall for the eighth year, with three books in the top 10.
But erotic novel Fifty Shades of Grey dropped out of the top 100 entirely.
EL James' book plummeted after being in third place the previous year.
Judith Watts, senior lecturer of publishing at Kingston University, said the book had become so ubiquitous that it was no longer enticing to readers.
"I think it's to do with saturation, it became so widely available," she told The Independent. "Certain charity shops won't take it any more."
Children's books dominated the chart, with children's writers accounting for six of the top 10 most borrowed authors.
Daisy Meadows - a collective group of authors who write the Rainbow Magic series - took second place, with The Gruffalo author Julia Donaldson third.
"I'm thrilled that my books are being widely borrowed from libraries, which are some of my favourite places," she said.
"I developed my own love of books in my local library and would quite possibly not otherwise have become a writer myself.
"With the closure of so many bookshops the libraries have an added importance, and it's important that they remain open and at the heart of our communities."
The figures were released by the Public Lending Right (PLR) scheme, which ensures authors get paid for books loaned by libraries.
James Patterson had 13 novels in the top 100. Second Honeymoon was his most popular book, at number eight.
Seven authors saw their books borrowed more than a million times, with Patterson, Meadows and Donaldson joined by Francesca Simon, MC Beaton, Beast Quest creator Adam Blade and Dame Jacqueline Wilson.
The most-borrowed non-fiction author of the year was Great British Bake Off star Mary Berry. The most-borrowed classic author was Roald Dahl.
This month, the PLR will make £6m payments to 22,053 authors at a rate of 6.66p per loan.
Library lending figures - 2014
Most-borrowed books
Most-borrowed authors
1) Inferno - Dan Brown
1) James Patterson
2) Never Go Back - Lee Child
2) Daisy Meadows
3) A Wanted Man - Lee Child
3) Julia Donaldson
4) Diary of a Wimpy Kid - Jeff Kinney
4) Francesca Simon
5) Private Down Under - James Patterson & Michael White
5) MC Beaton
6) Diary of a Wimpy Kid: The Last Straw - Jeff Kinney
6) Adam Blade
7) Six Years - Harlan Coben
7) Jacqueline Wilson
8) Second Honeymoon - James Patterson
8) Nora Roberts
9) Mistress - James Patterson & David Ellis
9) Lee Child
10) The Dying Hours - Mark Billingham
10) Roald Dahl