How foreign language films struggle for UK success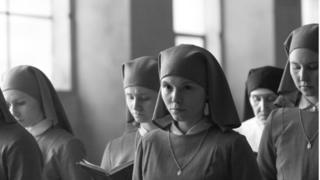 The Oscar category for best foreign language film provides a chance for English speakers to catch up with cinema from around the world, such as this year's winner, the Polish film Ida. But is it getting more difficult to persuade us to read subtitles for two hours?
Film programmer Jason Wood is in a position to know. Film fans know Wood for his books on contemporary film-making. Subjects have included Mexican cinema, independent film in America and the director Hal Hartley.
But for now, the writing may have to go on hold. He's taken a job as artistic director of film at the new HOME arts centre in Manchester. It opens in late May.
Before that he spent years in distribution, at Picturehouse Cinemas and Curzon Cinemas. Part of his job was identifying foreign language films which might attract an audience in Britain.
"What you're looking for is a foreign film which might take £500,000 at the box-office nationally," Wood says.
"With Ida's victory, the last four movies to take best foreign language film on Oscar night have all done pretty well theatrically in the UK." Before Ida, there was the Iranian film A Separation in 2012, then Michael Haneke's Amour and, last year, the Italian film The Great Beauty.
"I'd say Haneke is now second only to Pedro Almodovar as a European director who attracts a certain type of British film-goer.
Even Haneke's The White Ribbon (2009) found an audience here - and it was a far more austere film than Amour. It helped that it had won the Palme d'Or at Cannes."
But there's no such thing as a guaranteed hit at the box office. Last year, Wood says, he had big hopes for the Palme d'Or winner, Winter Sleep.
"I thought [Turkish director] Nuri Bilge Ceylan made a superb film and I was delighted to see it get picked up by a UK distributor. But it went belly up in Britain: almost no-one bought a ticket."
So why did it flop when earlier Ceylan films did well? Wood says the answer shows how complex the market has become.
"There may simply be too many films on release. Look at newspaper listings on a Friday and some weeks you'll find a dozen new releases. Three or four might be foreign or specialised - a category which includes documentaries and reissued classics. It's twice what you had a few years ago.
"But almost no-one will go to see more than one subtitled film a month. Winter Sleep was unlucky to come out just after Leviathan, one of the other Oscar nominees. Leviathan plays like a gripping Russian thriller and audiences clearly liked it."
"I don't think the Oscar win for Ida will lead to a substantial new release. But eventually it may bring increased video-on-demand downloads. And it will be a huge boost to the director Pawel Pawlikowski, who's based in Britain. He may now find projects much easier to get off the ground."
Jason Wood says in his new role one of his aims is to create a sense of event around the best foreign films.
"For instance, Jean-Luc Godard's 3D film Goodbye to Language got great reviews last year at Cannes but no theatrical release in the UK. So that means no distribution and advertising budget behind it.
"So how do you compete with a big film with access to possibly £1.4m in prints and advertising?
"Getting a five-star review in the Guardian can make a foreign film. But if the film's not even released that's not an option.
Fifteen years ago Latin American cinema held sway in Britain.
"That had a lot to do with just a couple of films - Amores Perros and Y Tu Mama Tambien - and with Gael Garcia Bernal being so popular. Very few foreign films do that kind of business these days." He says Marion Cotillard is a rare foreign star who can get audiences into a cinema.
"But there's a general exception for French films anyway, because more people here speak some French. And there's a tradition of enjoying French cinema going back decades.
"The shift to digital distribution should make it easier for a new venue like Home to play even a difficult foreign film, say, three times over a weekend. I hope we'll have supporting events such as talks or a documentary screening or the director's earlier films. Exhibitors and distributors need to be more enterprising.
"But nothing stands still. Think back to when Amores Perros came out (in 2000) and suddenly Latin American film was hot at the cinema. People today get so much more of their culture online and have other demands on their lives.
"There is a positive side: people can download a whole range of foreign films they had no access to before. If you live in Wigan or in rural Wales that's a step forward: not everyone has an art-house cinema around the corner.
"But to go to a foreign film is to be challenged and provoked. We've got to find new ways of encouraging people to make that mental leap or slowly year by year the audience for non-English language film will diminish."