Jason Jones quits The Daily Show for new sitcom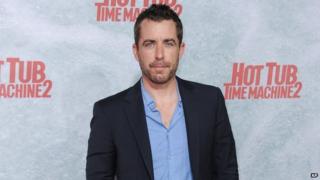 The Daily Show correspondent Jason Jones is leaving the Comedy Central series after nearly a decade to produce and star in a new sitcom.
The news comes weeks after host Jon Stewart announced he will leave the satirical news show later this year.
"For 9 & 1/2 years, I have worked at one of the greatest TV shows of all time," wrote Jones on Twitter. "But... It is time for me to go."
His new sitcom, about a family on the road, is being made for US channel TBS.
Jones's wife Samantha Bee will continue as a correspondent on The Daily Show, but will also be an executive producer on the new comedy.
Jones said on Twitter he was "ecstatic" he would be making "another great show", this time for TBS which is home to programmes such as Conan, Family Guy and The Big Bang Theory.
Comedy Central said he would be leaving this year but did not give a date for his last show.
Stewart bids farewell
Comedian Stewart - who has been at the helm of the fake news programme since 1999 - announced his departure a few weeks ago, calling his time on the show "an absolute privilege".
He has said he is not sure exactly when he will leave, or what he will do next but that the time had come for him to go.
Stewart told the audience: "This show doesn't deserve an even slightly restless host and neither do you."
The Daily Show has often been cited as a leading news source for young people, with an average audience of one million viewers.
It has also been a launch pad for several well-known comic performers, including Steve Carell and John Oliver, as well as Stephen Colbert.
Stewart and Jones' departures come after Colbert left his own show on Comedy Central to take over David Letterman's late night show on CBS.