Will Smith's Focus beats Fifty Shades of Grey at box office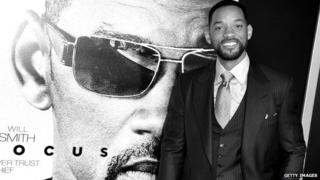 Will Smith's crime caper Focus has debuted at number one on the North American box office chart, knocking Fifty Shades of Grey off the top spot.
But it was a relatively modest opening for the Hollywood star, with Focus earning an estimated $19.1m (£12.4m) between Friday and Sunday.
Erotic film adaptation Fifty Shades of Grey fell to fourth with $10.9m (£7m) after spending two weeks at number one.
In second place was Colin Firth's spy thriller Kingsman: The Secret Service.
That film took $11.8m (£7.6m) over the weekend, just ahead of The SpongeBob Movie: Sponge Out of Water, which made $11.2m (£7.3m) in its fourth week of release.
The second highest new entry, horror film The Lazarus Effect, rounded out the top five, taking $10.6m (£6.8m).
Pulling power
Focus gives Smith his first major role since 2013's After Earth, the science fiction flop that also starred his teenage son Jaden, and went on to win three Razzie awards..
Focus is about a conman who introduces his young lover to the tricks of the trade before breaking off their relationship. Three years later, they meet again in Argentina, where they are both trying to scam the same billionaire.
Some commentators have concluded that Smith's box office pulling power is on the wane given the relatively low takings for a number one movie.
But Warner Bros said Focus, which was made for about $50m (£32.5m), was only predicted to take about $21m (£13.6m) in its opening weekend.
"This is a mid-budgeted film with a result that matches," Warner Bros head of distribution Jeff Goldstein said.
Media analyst Paul Degarabedian of box office tracker Rentrak concurred. "This still goes on his balance sheet as a number one debut," he said.
"He can still draw an audience, particularly with a film that's R-rated and not aimed at the young crowd."