BBC Trust boss Rona Fairhead to face MPs over HSBC role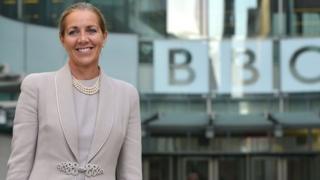 BBC Trust boss Rona Fairhead is to be questioned by MPs about her role at HSBC while the bank's Swiss arm helped wealthy clients evade tax.
Mrs Fairhead, who took over at the Trust last year, has been a member of the bank's board since 2004.
She will give evidence to the Public Accounts Committee alongside HSBC chief executive Stuart Gulliver next Monday.
Margaret Hodge, who chairs the committee, raised questions about her BBC role last week.
She said the BBC Trust should "look at" Mrs Fairhead's past on the HSBC board.
"There are clearly question marks arising out of her role," she said.
BBC Trust member Nicholas Prettejohn said the Trust would "take note" of the results of inquiries by regulators - but the BBC was "not doing anything specifically ourselves".
Pressed further, he said: "It was not the Trust's own appointment for the chairmanship of the BBC and therefore it wouldn't be right for us to revisit that decision.
"Secondly, I think there will undoubtedly be a number of inquiries by different regulatory authorities and so on into the affairs at HSBC, and obviously the Trust will take note of the content of those inquiries."
'No discussions'
Mrs Fairhead has been on the HSBC board since 2004 and was chairwoman of its audit committee from 2007.
She was paid a total of £513,000 by the bank last year, and joined the BBC Trust - the corporation's arm's-length regulator - last October, following the unexpected departure of Lord Patten.
Her appointment was ultimately decided by the Queen on a recommendation from Culture Secretary Sajid Javid.
It came as the BBC's Panorama programme was investigating HSBC, discovering that it had helped wealthy clients across the world evade hundreds of millions of pounds' worth of tax.
HSBC has admitted that it was "accountable for past control failures" but said it had now "fundamentally changed".
BBC director-general Tony Hall has stressed that he had never discussed the Panorama investigation with Mrs Fairhead, as it was "not proper" for him to do so.
"Of course I didn't talk to her about that and I haven't," he told BBC Radio 4's World at One.
A spokesman for Mrs Fairhead added: "Rona was not at any time involved in any discussions at HSBC specifically about the bank's dealings with the BBC."