Gallery shows explicit Chapman film through peephole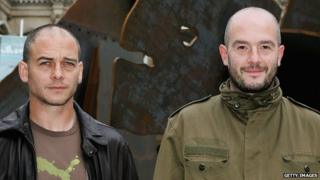 A pornographic artwork that caused controversy when it was first shown 20 years ago has gone on display.
But it can only be viewed through a peephole, to prevent minors seeing it.
Bring Me the Head of..., by British artists Jake and Dinos Chapman, features two actresses playing with a model head with a phallic nose.
It is on display in London as part of an exhibition of works by the so-called Young British Artists, including Damien Hirst, Tracey Emin and Gavin Turk.
The work was originally shown at the Ridinghouse Editions gallery in 1995.
But it had to be removed because it could be seen from the street outside, in contravention of laws about the exhibition of explicit material.
The 10-minute film, now on display in Mayfair's Shapero Modern gallery, plays on a loop in a sealed off booth.
According to spokesman Mark Inglefield, it can only be viewed by adults "through a hole the size of a 10p piece".
'Within the law'
"We've deliberately made the hole rather high so there's no chance of a minor viewing it," he told BBC News.
"We have an invigilator who will challenge anyone who looks under 18 and will ask them for proof of their age. That's how we stay within the law."
Jake and Dinos Chapman created the severed head that features in the film as an act of revenge after an Italian gallery owner refused to exhibit another of their works.
It was last seen in the UK in 2006 at Tate Liverpool, where it was viewed through a hole cut in a painting
"The whole thing about the Chapmans' work is that it is all about shock," said Inglefield.
"Clearly it's bad taste, but it challenges assumptions about how we perceive pornography."
'Fizz and vitality'
Other artworks in exhibition include Sarah Lucas's Self Portrait with Fried Eggs (1996) and Damien Hirst's The Last Supper series (1999).
"The 1990s were an incredible time for British art and this show brings together most of the artists who came to be known as YBAs," said curator Tabitha Philpot-Kent.
"Although these editions were produced 20 or more years ago, they all retain a certain freshness and perfectly capture the fizz and vitality of the era."
Rack 'em Up: British Contemporary Editions 1990-2000 runs at Shapero Modern until 27 March.