Bruce Willis to make Broadway debut in Misery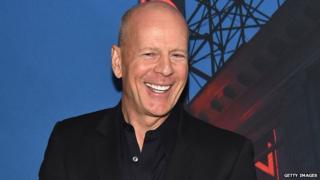 Bruce Willis will make his Broadway debut in a stage adaptation of the Stephen King novel Misery.
The Die Hard actor will play romantic novelist Paul Sheldon, who is kept captive by his number one fan after crashing his car near her home.
Elizabeth Marvel will take on the role of deranged fan Annie Wilkes.
The book was made into a film in 1990, directed by Rob Reiner and starring James Caan and Kathy Bates, who won an Oscar for her portrayal of Wilkes.
William Goldman, who wrote the screenplay for the film, as well as The Princess Bride and Butch Cassidy and the Sundance Kid, has also adapted King's novel for the stage.
The play will be directed by Will Frears, who previously premiered a production of Misery at the Bucks County Playhouse in New Hope, Pennsylvania in 2012.
Willis will appear for a limited run this autumn, but the exact dates and the theatre have yet to be announced.
His co-star has starred in several other Broadway plays including Picnic and Other Desert Cities, as well as playing Heather Dunbar in the Netflix series House of Cards.
Misery's tale of torture and suspense takes place in a lonely, snow-covered town where novelist Sheldon crashes his car after skidding on some ice, with his latest manuscript in his briefcase.
Super fan Wilkes takes him home to nurse him back to health, but soon discovers the author has killed off her favourite romantic heroine in his new book - provoking an angry response.
A Broadway version of King's novel Carrie in 1988 was considered a legendary flop.
Misery is being produced by the theatre arm of Warner Bros, which is currently co-producing The Curious Incident of the Dog in the Night-Time on Broadway and is also behind Sam Mendes' musical version of Charlie and the Chocolate Factory, scheduled for Broadway in 2016.