World's biggest opera houses defend ENO after funding cuts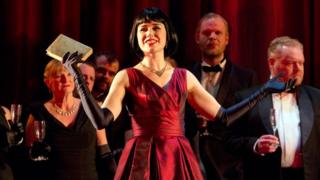 Heads of the world's most prestigious companies have signed a public letter condemning funding cuts at English National Opera.
They described the ENO as "a showcase for talent and innovation" and "one of the UK's greatest cultural ambassadors" in a letter to the Financial Times.
Signatories included Alexander Pereira, of La Scala in Milan, and Peter Gelb, of New York's Metropolitan Opera.
The ENO was placed under "special funding arrangements" last month.
Arts Council England said the organisation must improve its business model or face funding cuts.
It had already cut the ENO's funding by 29%, reducing its annual grant cut from £17.2m in 2014/15 to £12.4m in the next financial year.
The global opera scene has now rallied behind the organisation.
Senior figures from Russia, the US and Europe said they were "alarmed" by recent questions about the ENO and the leadership of its "talented artistic director" John Berry.
"Under Berry's strong 10-year leadership, the ENO is today regarded as one of the most creative forces in opera, consistently producing important new work," the letter said [subscription required].
"At a time when it has helped to further embellish London's reputation as a leading centre of cultural creativity, it doesn't seem fair for the ENO to now be under fire."
'Financial woes'
Last month Arts Council England announced it had dropped ENO from its national portfolio of organisations for 2015-18.
It said it would review the opera's finances and business plan over the next two years and "set rigorous milestones" for progress.
High-profile disagreements at the top of the organisation were made public earlier this year, with the Sunday Times publishing a letter from former chairman Martyn Rose in which he called for Berry to be sacked.
Rose's departure was announced in January, and executive director Henriette Gotz resigned a few days later.
In their letter, however, top directors argued it was "not the fault of the ENO that it is suffering from the same financial woes that many international opera companies are facing these days."
They said Berry and the company "should be applauded for their indefatigable efforts to keep our art form fresh", rather than be criticised.
They added: "We stand together in support of him and his notable achievements."
The ENO has recently moved towards more commercial programming that includes the staging of musical theatre productions such as Sweeney Todd, starring Bryn Terfel and Emma Thompson.
It announced on Monday it has appointed Cressida Pollock as its interim chief executive officer.
She will work with acting chairman Harry Brunjes from 24 March until the roles are filled permanently.