Dame Evelyn Glennie and Emmylou Harris win Polar Music Prize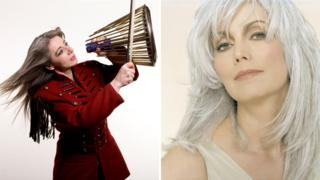 Scottish virtuoso percussionist Dame Evelyn Glennie and US country singer Emmylou Harris have been named 2015 Laureates of the Polar Music Prize.
They will receive their awards from Sweden's King Carl XVI at a ceremony in Stockholm on 9 June.
Dame Evelyn - who has been profoundly deaf since the age of 12 - said she was "humbled and inspired" to be awarded music's version of the Nobel Prize.
Harris, a 13-time Grammy winner, said she was "surprised and honoured".
Dame Evelyn, who played at the opening of the London 2012 Olympics, was the first person in history to have a full-time career as a solo percussionist.
"This award is so interesting, because it is recognising many different musicians from different musical backgrounds," she told the BBC's Colin Paterson in an interview for Radio 4's Today programme.
The musician, who turns 50 this year, made her career possible by encouraging composers to make pieces for her.
"The commissioning aspect, obviously that has been the most important part of my career," she told the BBC at her studio in Huntingdon, Cambridgeshire.
"When I started there was just simply too little repertoire to sustain a career."
'Exceptional careers'
Since the Polar Music Prize was founded by Abba manager and lyricist Stig Anderson in 1992, it has honoured musical achievements and boundary breaking.
Each year it recognises one laureate from the contemporary music world and one from the more classical realm.
Organisers called 2015's Laureates "richly deserving" winners with "exceptional music careers".
"Both represent the spirit of the award that my father envisaged when he founded the prize," said managing director Marie Ledin.
Harris, from Birmingham, Alabama, has recorded more than 25 albums over four decades and was inducted into the Country Music Hall of Fame in 2008.
She has collaborated with artists from Bob Dylan and Gram Parsons to Willie Nelson and Beck and is the subject of the 2012 song Emmylou by Swedish folk duo First Aid Kit.
"I was both surprised and honoured at the news of this most prestigious award," said Harris, 67.
She told organisers she was "now looking forward to once again returning to your beautiful country where I was first so warmly welcomed... many years ago."
'Sound is vibration'
Dame Evelyn has released more than 30 solo albums, has won three Grammys and has played with the world's most prestigious orchestras.
"To be chosen from so many deserving people, from all genres of music, only makes me want to work harder, to make a difference and to rise to the occasion," she said.
Organisers said she "shows us that the body is a resonance chamber and that we live in a universe of sound."
"There's no such thing as total deafness," Dame Evelyn told the BBC. "If the body can feel, that is a form of hearing. Sound is vibration, that's what it is."
Previous winners of the Polar Music Prize include Sir Paul McCartney, Chuck Berry, Patti Smith and Youssou N'Dour.
As well as their trophy, Harris and Dame Evelyn will each be awarded 1 million Swedish krona (£78,560).