Jeremy Clarkson 'punch': Top Gear episodes to be dropped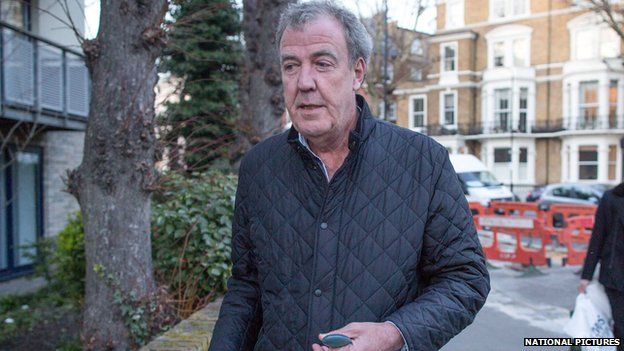 The BBC is expected to scrap the remainder of the current Top Gear TV series after allegations that presenter Jeremy Clarkson punched a producer.
The broadcaster said Clarkson, 54, had been suspended after what it called a "fracas" and has confirmed Sunday's episode of Top Gear will not be shown.
It is understood the two final episodes in the series will also be dropped.
An online petition calling for the BBC to "reinstate" Clarkson has been signed by almost 250,000 people.
It was started on Tuesday afternoon by political blogger Guido Fawkes.
Clarkson has not issued a statement, but has been joking on Twitter about films that could replace Sunday's show.
The Sun newspaper, in which Clarkson writes a regular column, quotes him as saying: "I'm having a nice cold pint and waiting for this to blow over." It also quotes a "source close to the star" denying Clarkson punched anyone.
The BBC had announced Clarkson's suspension in a statement which said: "Following a fracas with a BBC producer, Jeremy Clarkson has been suspended pending an investigation.
"No one else has been suspended. Top Gear will not be broadcast this Sunday. The BBC will be making no further comment at this time."
BBC News special correspondent Lucy Manning said sources had confirmed reports the presenter was suspended for "allegedly hitting a producer".
"The incident is believed to have happened last week, but was reported to the BBC on Monday and dealt with on Tuesday," she said.
"The next two episodes of Top Gear will not be broadcast and it's understood that a third programme, the final of the series, is unlikely to be transmitted."
The BBC had no comment to make on a report in the Daily Mirror that named the producer involved in the alleged incident.
Clarkson has exchanged suggestions on Twitter with Top Gear co-hosts Richard Hammond and James May about films that could be aired in place of the Sunday's planned episode.
PR consultant Mark Borkowski has said the BBC faces "a difficult decision".
He told 5 live's Wake Up to Money that Clarkson's tweets suggested he "doesn't seem to be worried".
"A lot of TV executives around the world are looking at this fracas thinking 'would we like to get our hands on Jeremy Clarkson?'," he added.
Clarkson, who has presented the motoring programme since 2002, was given what he called his "final warning" last May after claims he used a racist word during filming.
Footage leaked to the Daily Mirror appeared to show Clarkson using a racist term while reciting the nursery rhyme Eeny, Meeny, Miny, Moe.
He later apologised for the incident, which was never broadcast.
The show's executive producer, Andy Wilman, described last year as an "annus horribilis" for the programme.
It followed an incident in Argentina where the presenters and crew were forced to flee the country after trouble erupted over a number plate reading H982 FLK - which some suggested referred to the Falklands conflict of 1982.
Last year the show was also censured by Ofcom for breaching broadcasting rules after Clarkson used a derogatory word for Asian people during its Burma special programme.
With Clarkson at its head, Top Gear has been no stranger to controversy.