Tim Burton 'to direct' live-action Dumbo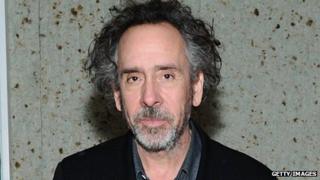 Tim Burton is to direct a new live-action version of the Disney film Dumbo, according to reports.
The 1941 film told the tale of a young elephant who is mocked for his large ears which he learns to use to fly.
Burton's version will use a mix of CGI and live action, said the Hollywood Reporter.
His re-imagined Alice in Wonderland earned $1.02bn (£677m) worldwide while last year's Maleficent, starring Angelina Jolie, made $758.4m (£503.5).
That film told the story of the villainess from the 1969 Disney animation Sleeping Beauty.
The screenplay for the new Dumbo is being written by Transformers: Dark of the Moon's Ehren Kruger.
Fairytales have become big box office business in the past 12 months with the musical Into the Woods, staring an Oscar-nominated Meryl Streep, earning $173m (£114.9m).
Jon Favreau is directing a new version of Disney' s The Jungle Book with the voices of Scarlett Johansson and Idris Elba. The 1967 animation was previously made into a live-action film in 1994.
Kenneth Branagh's version of Cinderella, starring British actors Lily James and Richard Madden, is due for release later this month.