Architect Frei Otto wins posthumous award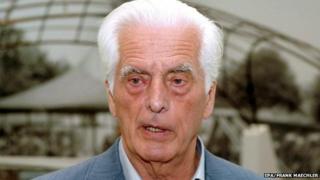 German architect Frei Otto was posthumously awarded international architecture's top prize hours after his death was announced, aged 89.
Otto, best known for his work at Munich's 1972 Olympic Games, was named the winner of the 2015 Pritzker Prize.
He was hailed for his "pioneering work in... lightweight structures".
He learnt of the honour in January, but the committee said it was the first time that a winner had died before the announcement was made.
"Time waits for no man," said Peter Palumbo, the Pritzker chairman, in a statement, adding that Otto's death was "a sad and striking example of this truism".
A spokesman for the Pritzker Prize said Otto was humble but happy on learning that he was this year's recipient.
"I've never done anything to gain this prize," he was quoted as saying.
"Prizewinning is not the goal of my life. I try to help poor people, but... I'm very happy."
Otto, who went blind in the last years of his life, was best know for tent-style structures. Key works include the German pavilion at the 1967 Montreal Expo and the aviary at Munich zoo.
His work on the canopies for Gunter Behnisch's 1972 Olympic stadium has been echoed in the ideas of younger architects and in the designs of structures such as the Millennium Dome and the Eden Project.
In 2005 he received the Royal Gold Medal for architecture from the Royal Institute of British Architects, and the following year was awarded the 18th annual Praemium Imperiale prize for architecture.
"Frei Otto is one of the great architects and engineers of the 20th Century," said British architect Richard Rogers.
"His work has inspired and influenced modern architecture, as we all learn to do more with less, and to trade monumental structures for economy, light and air."
The Pritzker Prize will be awarded at a ceremony on 15 May in Miami, with past winners speaking about Otto's life and work.