Bill Cosby accuser Lise-Lotte Lublin seeks change in law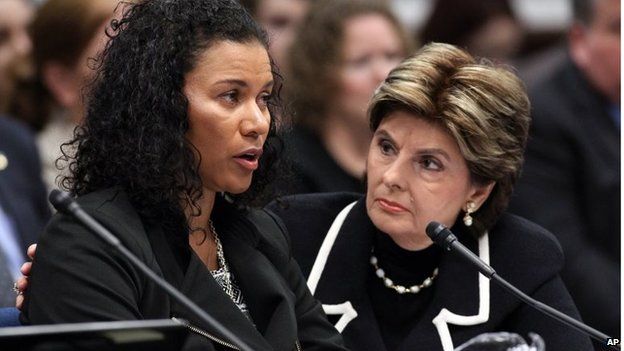 A woman who claims she was assaulted by Bill Cosby has asked law-makers in Nevada to repeal the statute of limitations on reporting such crimes.
Lise-Lotte Lublin says she passed out after the comedian gave her two alcoholic drinks in 1989.
She tried to file a police complaint in January, after hearing similar allegations and concluding something had happened while she was unconscious.
But she was told victims were required to file a report within four years.
"I now understand that the law prevents the victim in my circumstances from seeking justice," she told a Judiciary Committee on Friday. "Why would the law want to prevent me from seeking justice?"
"Who is protecting the victim?" she continued. "The law is on his side."
She asked legislators to repeal the law in order to protect future victims.
Even if her request was successful, Lublin would not benefit, as any change to the law would not be retrospective.
"I want to empower victims, period," she said, "regardless of what happens for me."
Assemblywoman Irene Bustamante Adams, who is sponsoring the bill, said it was necessary because women face major emotional trauma following a sexual assault, and it can take years before they feel comfortable with contacting the police.
Judiciary chairman Ira Hansen asked that Cosby not be named during Lublin's testimony, saying the hearing was not a trial.
However, Lublin had made her allegations public in February at a press conference with attorney Gloria Allred, who represents several of Cosby's accusers.
Allred also testified for the bill, as did Lublin's husband, Benjamin.
More than 20 women have come forward in recent months to level various accusations against Cosby, ranging from unwanted advances to sexual assault.
The comedian has not been charged in any of the cases, and has denied the allegations against him.
A publicist for the star did not respond to requests for comment on Lublin's testimony.
Related Internet Links
The BBC is not responsible for the content of external sites.