Kristin Scott Thomas receives damehood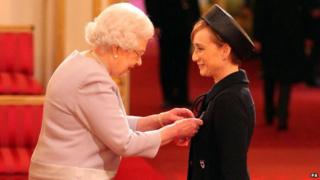 Actress Kristin Scott Thomas has been made a dame at a ceremony at Buckingham Palace.
The 54-year-old actress was presented with her damehood by the Queen, whom she will play on the London stage next month in The Audience.
"She asked me what I was doing next, so I had to tell her and she said it would be quite a challenge," the English Patient star told reporters.
Dame Kristin will take over the role in April.
The play by Peter Morgan - who wrote The Queen - depicts the weekly meetings between Queen Elizabeth II and a series of British prime ministers, and the imagined conversations which ensue.
Dame Kristin will take up the role for a new run at London's Apollo Theatre, directed by Stephen Daldry.
Dame Helen Mirren is currently playing the role in another production on Broadway. She won the best actress Olivier when it debuted in 2013.
Dame Kristin, who was born in Cornwall, but now divides her time between France and the UK, described herself as "clearly very happy" after the Queen presented her with her damehood for services to drama.
A versatile stage and film actress, she remains best known for her roles in Four Weddings and a Funeral, The English Patient and Gosford Park.
She was nominated for a Bafta for playing John Lennon's Aunt Mimi in 2009's Nowhere Boy.
More recently she played Ryan Gosling's mother in 2013 Only God Forgives, was seen as Dame Maggie Smith's daughter in My Old Lady, and appeared opposite Ralph Fiennes in The Invisible Woman.
She can currently be seen in Suite Francaise, a World War Two drama based on the best-selling novel by Irene Nemirovsky.