Glee star Dianna Agron to appear in McQueen play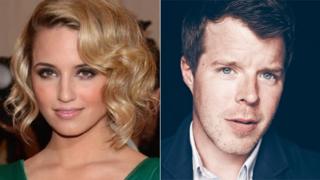 Glee star Dianna Agron is to star in a new play about British fashion designer Alexander McQueen.
The actress will make her British stage debut in the production, where she plays a devoted fan who breaks into McQueen's house.
Stephen Wight, who currently stars in BBC Three bomb disposal comedy drama Bluestone 42, will play the fashion designer who died in 2010.
McQueen will run at London's St James Theatre from 12 May until 6 June.
Written by James Phillips, the play is billed as "a journey into the visionary imagination and dark dream world" of McQueen.
It takes its inspiration from a quote the designer made in 2008 where he revealed he made up a story about a girl who lives in a tree in his garden "and comes out of the darkness to meet a prince and becomes a queen".
The story follows fan Dahlia who - after spending 11 days up a tree watching McQueen's house - decides to breaks in and steal a dress.
But when the designer catches her, instead of reporting her to the police, the pair end up spending a night together in London.
An advisory on the play's website suggests it is not suitable for those aged under 16 and "contains nudity, adult themes and language some may find offensive".
Agron is best known for playing Quinn Fabray on the US musical comedy Glee and went on to star in a number of films including 2011's I Am Number Four and The Family opposite Robert De Niro in 2013.