Dance chief quits in row over quality of UK training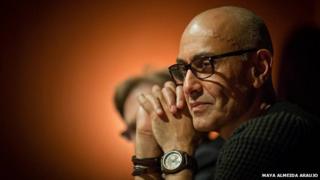 Farooq Chaudhry has stepped down as chairman of industry body Dance UK after he derided the "declining standards" of UK dance training.
Chaudhry's remarks were included in last week's statement from leading choreographers Akram Khan, Hofesh Schechter and DV8's Lloyd Newson.
They said UK students "lack rigour and technique" and were often "outclassed", forcing them to recruit from abroad.
Chaudhry questioned whether UK dance schools were "serving their students".
'Mollycoddled'
He has since admitted that his comments - made as a producer for the Akram Khan Company, rather than in his Dance UK capacity - had "created public confusion".
"As chair of Dance UK I was meant to be neutral - I'm Mr Switzerland - but as a producer I have strong opinions," said Chaudhry to The Times.
He told the BBC he had found it hard speak his mind.
"It's hurtful and it hurts me as well to say it, because I care profoundly about dance and there's a lot of very talented people I love and respect in this industry.
"But sometimes we can be too nice to each other and these are issues that do need to be addressed."
He added: "I think students are being mollycoddled. I think they are being treated too much with a light touch."
---
Analysis by arts editor Will Gompertz
A quick glance at Dance UK's website would suggest an art form that was in very good shape. It reports a dramatic increase in the number of professional dance companies over the past two decades, as well as pointing out that audiences have risen significantly, and students studying the subject at school have grown by more than 200%.
But behind the scenes the situation appears less rosy. Chairman Farooq Chaudhry is stepping down after openly questioning the competence of the country's three main dance schools, and he wasn't alone in his criticisms.
Akram Khan, the man behind some of the most dazzling dance sequences at the opening ceremony of the London Olympic Games was damning, saying the training young dancers go through in the UK is not supporting them in the rigour and technique he is looking for in a dancer.
Veronica Lewis is in charge at one of the dance schools being criticised, The Place, which she said "prepares students for lifelong careers in dance".
This is an argument about standards and expectations. Statistics can and will be debated, but given that three of the UK's leading contemporary dance companies felt compelled to publically express their dissatisfaction with the country's dance schools, it does indicate that someone, somewhere is out of step.
---
Khan claimed last week that just four of the 51 dancers his company had employed since 2000 were UK trained.
All of the choreographers said they had struggled to find dancers "of sufficient calibre" and had decided to "go public" to encourage the industry to work together to "level the playing field".
The statement also claimed that less than 35% of graduates at the three main contemporary dance schools - the London Contemporary Dance School (LCDS), Trinity Laban and the Northern School of Contemporary Dance - go on to work as dancers or choreographers.
However the dance schools all disputed the figures and defended UK standards - with Kenneth Tharp, the chief executive of The Place at LCDS, demanding Chaudhry's resignation in an open letter.
LCDS principal Veronica Lewis said the figure was closer to 80%, with graduates going on to work in companies including the Hofesh Schechter Company and Matthew Bourne's New Adventures.
Trinity Laban principal Anthony Bowne said it was "baffled" by the comments, while Janet Smith, principal of the Northern School of Contemporary Dance, said many of the school's graduates had been placed in the choreographers' own dance companies.
Dance UK director Caroline Miller thanked Chaudhry for his work since 2009 and said the organisation had "benefitted immeasurably from his knowledge and passion."