Sheridan Smith: 'We should talk about cancer'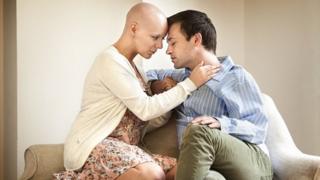 Sheridan Smith hopes powerful new drama The C Word, based on Lisa Lynch's acclaimed book and blog, will encourage people to talk more honestly about cancer.
When writer Lisa Lynch was diagnosed with breast cancer at just 28, it wasn't long before she decided a blog - to "tell it the way I see it" - was the only way to cope with whatever came next.
"The universe might be in control of what's going on in my body, but I'm in control of what's going on in my blog," she wrote.
Now her inspirational, funny and "unflinchingly honest" blog and book have been turned into a one-off drama starring Sheridan Smith, who Lynch handpicked to play her.
"Lisa got in touch with me through Twitter and said: 'I only want you to play me'," says Smith.
"I read the book and I was like: 'Wow. Are you sure?' It took me a long time to decide to do it. I wanted to so badly but I was wary of upsetting family members.
"She's amazing and it was an absolute honour. I just hope I did her justice."
Smith says the chance to give a "no holds barred" account of the disease and how we all deal with it inspired her to take on the role.
"My favourite line [in the drama] is when [Lisa] goes: 'I'm British. We just don't talk about things like that.'
"And it gets me every time, because we don't. And it's cancer! It touches one in three and every single one of us will, if we haven't experienced it, know a friend who has.
"We should talk about it. It's not a taboo subject. It should be spoken about."
The pair soon struck up a close friendship - calling each other "SS and LL" - as Lynch worked closely with writer Nicole Taylor and BBC producers adapting her book.
But sadly making the drama has proved "bittersweet", as a secondary cancer was diagnosed in 2011 and Lynch died in 2013, aged 33.
Producers say they were originally unsure how or whether to even go ahead with the project, as the first draft of the script had ended with Lynch publishing her book.
Lynch's family - including husband Pete, played by Paul Nicholls on screen - were involved at every stage of the process, including helping to finish the story.
While The C word offers plenty of humour and upbeat moments, Smith - who lost her eldest brother Julian to cancer when he was 18 - says she's been moved to tears each time she's watched it, including at the press screening.
"If you're going to show it, you've got to show it for real," says Smith, pointing to a particularly emotional scene where Lynch collapses in the bath.
"One thing I remember when my brother passed from cancer is my mum and dad carrying him up and down stairs and out of the bath.
"If we missed that bit out, it's a bit like going 'oh isn't it fun'. You've got to show the reality too."
As Lynch lost her hair through chemotherapy, Smith sports a variety of wigs in the drama and shaved her head daily during filming.
"My eyebrows were the ones, because you can't shave or do threading, because they can grow back all weird," laughs Smith.
"So I had to pluck them individually, that was quite painful - but it was the least I could do."
The C Word's director Tim Kirkby is full of praise for Smith, whose skill as an actress has already seen her pick up a National Television Award for Cilla, a TV Bafta for Mrs Biggs and two Olivier Awards.
"I think Sheridan is one of the most instinctive, truthful actresses we have," says Kirkby.
"It comes from within. We didn't rehearse, we went in very open-minded, had a big discussion and then we shot it. We rarely did more than three takes, we wanted it to be unflinching.
"She just had a real spirit. Only Sheridan could capture Lisa's spirit really."
Smith in turn says she is "so grateful" to Lynch for having singled her out for the role.
"It did change my life. I might be sat here sobbing, but I'm so pleased I did it. If it makes one girl check her boob, if it does one thing, we can carry on her legacy.
"[Lisa was] amazing and inspirational and I hope for everyone that watches it she will be."
The C Word can be seen on Sunday 3 May on BBC One at 2030 BST.