Mass hysteria and female bonding in The Falling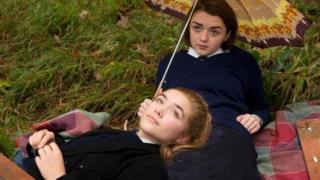 Director Carol Morley and Game of Thrones star Maisie Williams tell the BBC why they wanted to explore the phenomenon of mass hysteria in The Falling.
Mass hysteria, manifesting as uncontrollable dancing, laughing, twitching or fainting fits, have been reported as far back as the 16th Century.
The most recent case was at New York's Le Roy high school in 2012, where many female students began to display involuntary facial tics and other symptoms of Tourette's.
This phenomenon, as yet medically unexplained, is the subject of British director Carol Morley's latest film The Falling.
Set in 1969 at a strict English girls' school, the film tells of a mysterious fainting epidemic that breaks out in the aftermath of a tragedy.
Maisie Williams, best known as Arya Stark from TV's Game of Thrones, plays 16-year-old Lydia, who is best friends with the charismatic Abbie, played by newcomer Florence Pugh.
The idea for the film, documentary maker Morley explains, "came to me over a decade ago, when a friend and I ended up in bursts of hysterical laughter on the phone.
"I ended up making a short film, called The Madness of the Dance, about mass hysteria, or mass psychogenic illness, as it's now known.
"It's documented in medieval times and there was an outbreak in Salem, New England, which helped lead to the famous witch trials of the 17th Century.
"They are usually confined to same-sex institutions such as convents, schools or army barracks - and it is overwhelmingly a female phenomenon.
"Most recently they seem to break out in schools, and there have been cases all over the world - from Mexico to Sri Lanka to the West Bank.
"That idea of female collectivity, of what can happen amongst a close-knit group of girls or women, is fascinating to me.
"I found that while there are set patterns that are used to identify a mass psychogenic outbreak, medics can't yet entirely understand the physical symptoms. It's steeped in mystery.
"There's a theory that they are to do with unconsciously admiring another person with symptoms and this is how the disorder spreads, or that it's triggered by a stressful event.
"That gave me the whole idea for The Falling."
'Intensity and strength'
Williams says that Morley had yet to see Game of Thrones in 2012, when the actress first auditioned for the part of Lydia.
The British actress adds that it mades her "very proud to get the role entirely on my audition".
"There's a very different kind of intensity and strength to Lydia, compared to someone like Arya Stark, but she's still a strong female lead," the 18-year-old explains.
"I feel honoured to have only played really great girls so far in my career - even if a lot of the action in this one was putting on a school uniform, and learning how to faint and fall down properly."
Williams believes the fictional outbreak in The Falling "is mainly to do with sexual repression".
"I think it had to be set in 1969, because now there would be school counsellors on hand, the girls would be encouraged more to talk about their feelings.
"Back then, no one wanted to talk about teenage girls thinking about and wanting to have sex. The swinging sixties weren't all they were said to be."
"It was a very adolescent period," Morley points out. "So much of the 1960s was in a state of flux.
"It was also a time of anxiety about shifts in the way female sexuality was displayed and represented. So to build a mass psychogenic illness that seems to be sexual in nature represents rebellion.
"It was a time of great interest in the occult and conversations about the supernatural, so I suppose I also wanted the film to have that mystery to it.
"I do think that with some of these outbreaks, it can look otherworldly, as if there is another force at work."
The 49-year-old previously made the critically admired Dreams of a Life in 2011, based on the true story of a young woman whose body lay undiscovered for three years.
The Falling now looks set for an international release, having received a slew of glowing reviews since its premiere at the London Film Festival last year.
The Guardian's Peter Bradshaw described it as "terrific film-making - enough to bring a rush of blood to the head", while Pugh, an Oxford schoolgirl, has been described as "a young Kate Winslet".
Williams says she particularly enjoyed the overwhelmingly "female aspect" of the film.
"Even our photography directors and editors were women, and the music was made by Tracey Thorn from Everything But the Girl.
"I think it's great there's such a buzz about it. People come up to me and say 'But your film is just women', and I say, 'yes, and your point is?'
"There are so many blockbusters with all male casts, and here we are as something entirely different."
The Falling is out in the UK on 24 April.