Avengers: Age of Ultron storms US box office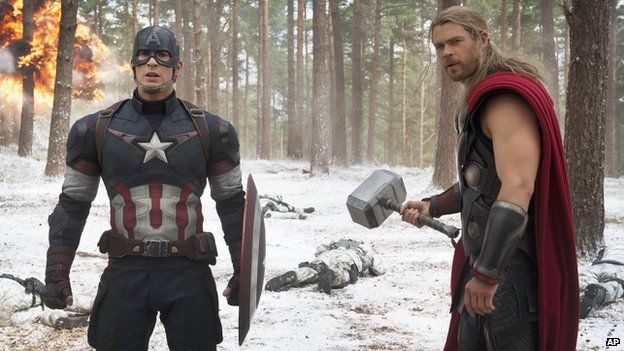 Avengers: Age of Ultron has topped the US and Canada box office with $191.3m (£126.5m), the second-biggest opening weekend ever in the US.
However the sequel failed to beat the record-breaking opening of the original Avengers film, which took $207.4m (£137.2m) when it debuted in 2012.
The weekend's second biggest film, Age of Adaline, took just $6.3m (£4.2m).
The Marvel Disney film was number one in the UK last weekend and has taken $631.1m (£417.5m) worldwide so far.
Analysts suggested sports events may have affected Age of Ultron's US performance, with Floyd Mayweather and Manny Pacquiao's boxing fight, the Kentucky Derby and NBA playoffs all scheduled over the weekend.
The film marks the return of Robert Downey Jr, Scarlett Johansson, Mark Ruffalo and Chris Evans as Iron Man, Black Widow, The Hulk and Captain America.
This time the superhero team - which also includes Chris Hemsworth as Thor and Jeremy Renner as Hawkeye - are battling to save the earth from villainous robot Ultron, voiced by James Spader.
"It was always going to be tough to top the first movie," Exhibitor Relations analyst Jeff Bock told AFP.
"The first film had the novelty of all these superheroes together in one film which we hadn't seen before. So Ultron didn't have that advantage."
However Age of Ultron still floored its competition, with no other film making it past the $10m (£6.6m) mark.
Fantasy drama The Age of Adaline, in second place, stars Blake Lively as a woman who stops aging after a freak accident.
Blockbuster Furious 7 took another $6.1m (£4m) in third place with Paul Blart: Mall Cop 2 in fourth and animated film Home rounding out the weekend's top five.