English National Opera triumphs at the RPS awards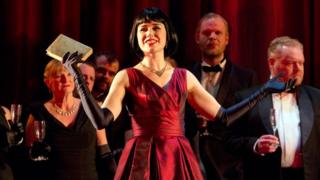 The embattled English National Opera (ENO) was among the winners at this year's prestigious Royal Philharmonic Society awards.
The company, which has been placed under special funding measures by the Arts Council, won the opera and music theatre award for "consistently outstanding work" across its portfolio.
German baritone Christian Gerhaher won best classical singer, while Andris Nelsons was named best conductor, and Scottish percussionist Colin Currie took home best instrumentalist.
It was a second major win for Gerhaher, who last month was named top male vocalist at the International Opera Awards.
The ENO's victory will come as welcome news after it was told to improve its business model or face cuts by Arts Council England in February.
It recently announced its 2015 season, acknowledging that its scope had to be reduced because of a drop in funding.
"We lost 30% of our arts council grant and there are a huge financial challenges across the whole of the arts and one has to cut our cloth accordingly," artistic director John Berry told the BBC.
Sir Antonio Pappano, the music director of the Royal Opera House, received the RPS Gold Medal, making him the 100th recipient since the award was established.
The RPS, which was founded in 1813 and commissioned Beethoven's Ninth Symphony, gives awards at its annual May dinner for "the best live classical music-making" in Britain during the previous year.
Winners in full:
Singer - Christian Gerhaher
Instrumentalist - Colin Currie
Conductor - Andris Nelsons
Young Artists - Mary Bevan
Large-Scale Composition - Hans Abrahamsen
Chamber-Scale Composition - Graham Fitkin
Opera and Music Theatre - English National Opera
Ensemble - London Contemporary Orchestra
Chamber Music and Song - Oxford Lieder Festival
Concert Series and Festival - The Barbican: Birtwistle at 80
Audiences and Engagement - Philharmonia iOrchestra
Learning and Participation - Southbank Centre: War Requiem
Creative Communication - Royal Opera House: The Opera Machine
Royal Philharmonic Society Gold Medal - Sir Antonio Pappano