William Zinsser: Influential writing coach dies aged 92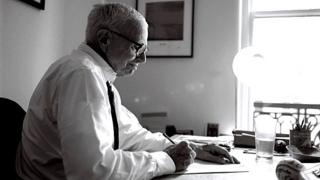 Multi million-selling author and writing coach William Zinsser has died in New York, aged 92.
Zinsser died at his Manhattan home after a brief illness, said his wife, Caroline Fraser Zinsser.
His 1976 book On Writing Well became a standard in the classroom, and an essential text for people trying to sharpen their prose.
Its advice was straightforward: write clearly, avoid jargon and make the reader think you enjoyed yourself.
Zinnser wrote more than a dozen other books, including Writing to Learn, Writing With a Word Processor and Writing About Your Life.
At Yale University, where Zinsser taught creative nonfiction in the 1970s, his students included such future stars as Christopher Buckley, Jane Mayer and Mark Singer.
He also advised government agencies and corporations, played jazz piano, critiqued films for The New York Herald Tribune and served as executive editor of the Book of the Month Club.
Some of William Zinsser's advice
"Look for the clutter in your writing and prune it ruthlessly. Be grateful for everything you can throw away. Re-examine each sentence you put on paper. Is every word doing new work? Can any thought be expressed with more economy? Is anything pompous or pretentious or faddish? Are you hanging on to something useless just because you think it's beautiful? Simplify, simplify."
Write for yourself, not others
"You are writing primarily to please yourself, and if you go about it with enjoyment you will also entertain the readers who are worth writing for."
Study the greats - but also your contemporaries
"Writing is learned by imitation. If anyone asked me how I learned to write, I'd say I learned by reading the men and women who were doing the kind of writing I wanted to do and trying to figure out how they did it."
Think of writing as a process, not a product
Many authors "know what they want to write, but instead of writing they say 'Well, my main problem is figuring out how to find an agent and get it published. I tell them, 'The main problem is that you need to write the damn thing.'"
Read everything you write out loud for rhythm and sound
"Good writers of prose must be part poet, always listening to what they write."
Have confidence in yourself as a writer
"I go around giving my students permission to be who they are, and there aren't enough people doing that," he said. "You learn to write by believing in who you are."
The youngest of four siblings, Zinsser was born in New York in 1922.
It was assumed he would take control of the shellac company his grandfather had founded - but instead he pursued a career in journalism, teaching himself to type and studying articles his mother had clipped from newspapers.
"Of course, that was a moment of great pain for my father," he told Wesleyan University students at a commencement speech in 1988.
"But my father never tried to change my mind. He saw that I was happy, and he wished me well in my chosen work. That was by far the best gift I ever received."
He first made it into print at the Deerfield Academy in Massachusetts where, as editor of the school paper, he was "intoxicated" by the smell of printer's ink.
But his education was interrupted by World War 2. He left Princeton in his second year and served as a sergeant in Italy and Africa.
On his return, he began working at the Herald Tribune, where he wrote feature stories, reviewed movies and edited the Sunday drama section.
It was there, in 1963, that he interviewed a young Woody Allen, at that time a jobbing stand-up in New York. Years later, Allen repaid the favour by giving Zinsser a cameo in his film Stardust Memories.
Nuture
When the Herald Tribune closed in 1966, the writer went freelance, penning articles for a variety of publications and appearing as the entertainment critic on NBC's television programme, Sunday.
After taking up his teaching position at Yale in 1970, he was persuaded by his wife to write a textbook for budding authors.
Zinsser hesitated to enter a field defined by William Strunk Jr and EB White's classic The Elements of Style - but on re-reading the book, he realised he could expand on the authors' simple dos and don'ts.
"I wouldn't compete with The Elements of Style," Zinsser wrote in his memoir. "I would complement it."
His method was to nurture students, encouraging them to write with passion.
"Ultimately, the product any writer has to sell is not the subject being written about, but who he or she is," he said in On Writing Well.
"I often find myself reading with interest about a topic I never thought would interest me - some scientific quest, perhaps. What holds me is the enthusiasm of the writer for his field."
The book went on to sell 1.5 million copies in the US alone.
Although he revised it several times, and composed further books on writing, he also followed his own advice and wrote about subjects that interested him, from jazz to baseball.