Sir Roger Moore wins damages over 'grope' claim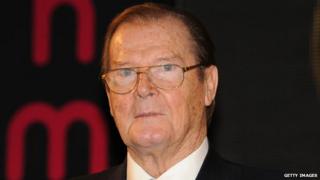 The actor Sir Roger Moore has accepted undisclosed libel damages over claims that he groped a woman while shooting James Bond film For Your Eyes Only.
The 87-year-old also received an apology and his legal costs over a story that appeared in the Daily Mail and on Mail Online in October 2014.
The article reported claims in an Australian magazine that the actor had groped a 21-year-old woman.
Associated Newspapers' solicitor said it acknowledged the claims were untrue.
"The defendant apologises for any distress and embarrassment caused to Sir Roger and his family," said Martin Wood.
Sir Roger was not at London's High Court on Wednesday for the settlement of his libel action.
The actor's solicitor, Amy Bradbury, said Sir Roger had been accused of groping Debbie Newsome while filming in Italy in 1981, as well as making "a number of inappropriate physical and other advances".
"It was also wrongly claimed... he had given Ms Newsome a gold bracelet covered in diamonds together with a bottle of expensive champagne and an inappropriate note... during a party at which his then-wife was present."
Mail Online published an apology to both Sir Roger and Ms Newsome in March and has removed the offending article from its website.
A former model and game show hostess, Debbie Newsome now performs in her native Australia in a Janis Joplin tribute act.
In a recent TV interview, she described Sir Roger as "adorable" and "gorgeous" and said she had had "the best time" shooting her small role as a woman James Bond bumps into while entering a flower shop in Cortina.