U2's Edge falls off stage on tour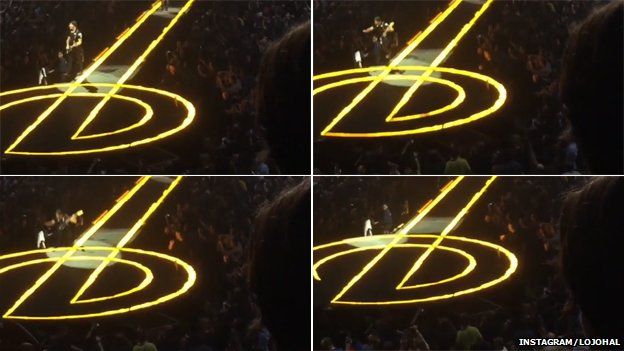 U2 guitarist The Edge has said he is fine after falling off stage during the opening night of the band's world tour.
The group were performing their encore at the Rogers Arena in Vancouver when the 53-year-old took a tumble.
A video posted online of the incident shows the guitarist appearing to misjudge the unconventional shape of the stage and stepping off the side.
He later posted a picture of his grazed arm on Instagram saying: "Didn't see the edge, I'm ok!"
U2 have just begun their Innocence + Experience tour, which will see them play some 70 dates across North America and Europe.
It is not the first stage fall the band has had the misfortune to experience - frontman Bono has taken a dive on several occasions.
He fell backwards off stage at a Miami concert in 2001 and slipped off a rainy stage in Washington DC in 1987 - dislocating his arm and requiring him to wear a sling for a dozen shows.
Last November, Bono also underwent five hours of surgery after breaking his arm in six places and suffering a broken eye socket as a result of a "high-energy bicycle accident" in New York.
Related Internet Links
The BBC is not responsible for the content of external sites.