Cannes 2015: Director dismisses language 'fuss'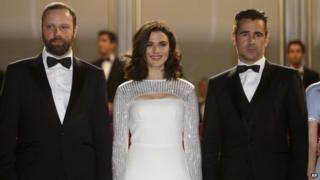 The Greek director of a film in competition at Cannes has insisted there is no significance to European directors making films in English.
Yorgos Lanthimos, whose film The Lobster stars Colin Farrell and Rachel Weisz, said: "I don't know what the fuss is about".
Italian directors Paulo Sorrentino and Matteo Garrone also have films at the festival not in their native languages.
"It's just a strange and interesting coincidence," Lanthimos said.
"It's always happening in this time and age, people live everywhere," he added.
"I don't think it really means anything."
Lanthimos's film - a dark comedy about people having to find their mate or be transformed into animals - was shot entirely on location in Ireland.
The Lobster, along with Garrone's Tale of Tales - starring Salma Hayek and Toby Jones - and Sorrentino's Youth - starring Michael Caine and Harvey Keitel, are are among those shortlisted for the Palme d'Or.
The film had its red carpet premiere in Cannes on Friday night.
Lanthimos's previous film, Dogtooth, which was made in his native language, won the Un Certain Regard award at Cannes in 2009 and was nominated for an Oscar for best foreign language film.
"In my case, for sure, it is easier to make a film in the English language," Lanthimos told the BBC.
"I had a few more resources than I had in Greece, which was part of the choice but I don't know if it's happening more now or before."
Nineteen films are in competition at this year's festival, with the winner due to be announced on 24 May.
The judging panel is headed by Joel and Ethan Coen and includes actor Jake Gyllenhaal and director Guillermo del Toro.