Enrique Iglesias has hand surgery after drone mishap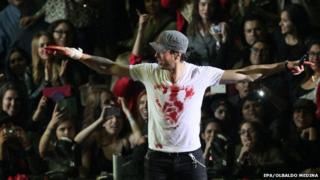 Spanish singer Enrique Iglesias has undergone reconstructive surgery on his hand in Los Angeles, after his fingers were sliced during a mishap with a drone at a concert on Saturday.
Iglesias was performing in Tijuana, Mexico when he grabbed the drone being used to take pictures of the crowd.
He was 'semi-treated' at the side of the stage to stop the bleeding, before performing for another 30 minutes.
A statement thanked fans "for all your concern and good wishes."
A representative for the 40-year-old singer told AP the surgery would be completed on Monday.
The accident happened when Iglesias tried to give the audience a point-of-view shot from the stage. Afterwards fans posted photos and video on social media, showing the singer's bandaged hand and blood-covered T-shirt.
"Something went wrong and he had an accident," a representative for the singer revealed on Instagram afterwards.
Iglesias was advised to end his show for 12,000 fans at Plaza de Toros de Playas in Tijuana, part of his Sex and Love World Tour, as soon as he was injured, but continued to play until half an hour later when he sought further treatment.
"He was rushed to the airport where an ambulance met him there," continued the Instagram post. "He was then put on a plane to LA... to see a specialist."
The statement on Monday added: "Enrique will resume his tour July 3rd in Mexico City. We appreciate all your wishes and prayers."