Chris Hemsworth joins Ghostbusters cast as receptionist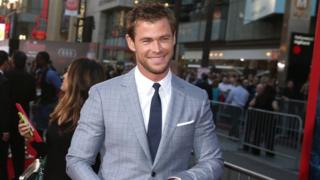 Thor star Chris Hemsworth has been cast as the receptionist in the new female-led Ghostbusters film, working under Melissa McCarthy and Kristen Wiig.
Director Paul Feig's gender-swapping reboot also features Kate McKinnon and Leslie Jones on the ghostbusting team.
Feig broke the news on Twitter, posting a picture of Hemsworth with the words: "Our receptionist. #whoyougonnacall."
Actress Annie Potts played the original receptionist, Janine Melnitz, in the 1984 film.
The ghost-hoovering team originally featured Bill Murray, Dan Akroyd, Harold Ramis and Ernie Hudson, while Sigourney Weaver played Dana, a woman troubled by a poltergeist in her apartment.
According to Variety, Australian actor Hemsworth originally passed on one of the film's male roles as it was too small.
Sources told the industry website and magazine the part had since been "beefed up" after Sony worked on the script.
Production on the new Ghostbusters is due to start later this summer, with the film scheduled to hit cinemas on 22 July, 2016.
The original, directed by Ivan Reitman, made almost $300m (£198m) at the global box office. A sequel, Ghostbusters II, followed five years later.
Feig previously directed McCarthy and Wiig together in hit comedy Bridesmaids, while his new film Spy - also starring McCarthy - debuted at the top of the UK and US box office at the weekend.