Katy Perry convent sale 'violates' nuns' vows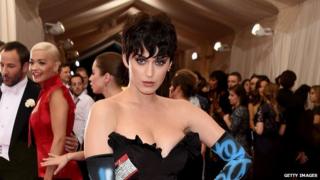 Two nuns objecting to Katy Perry's request to buy their order's convent said selling to her would "violate" their vows, according to reports.
The nuns spoke out against pop star Perry in an email to the Archdiocese of LA, the New York Times said.
"In selling to Katy Perry, we feel we are being forced to violate our canonical vows to the Catholic Church," said Sister Catherine Rose Holzman.
The paper said the email was part of legal documents filed on 17 July.
The email was reported to have been sent on 22 May while competing deals for the property were being considered. The convent, which was once home to Sisters of the Immaculate Heart of Mary, is reported to be valued at about $15m (£9.6m),
Perry, a hugely successful global star, wants to buy the hilltop property, with a sweeping view of California's San Gabriel Mountains. She recently agreed a $14.5m (£9.2m) sale with the Los Angeles archdiocese.
The nuns, however, argued the eight-acre property is theirs - and sold it to restaurateur Dana Hollister two weeks ago.
When they first learned the identity of their prospective buyer, the five surviving Sisters of the Most Holy and Immaculate Heart of the Blessed Virgin Mary were unaware of Perry's music, which includes songs such as I Kissed A Girl, Ur So Gay and By the Grace of God.
Perry, the daughter of two Pentecostal preachers, reportedly met with the nuns in May to plead her case.
According to the sisters' accounts, she showed them "a Jesus tattoo on her wrist area" and performed a rendition of the gospel hymn Oh, Happy Day.
The singer also told them that she wanted to live in the convent with her mother and grandmother to "find herself".
But following the visit, they researched her on the internet and did not like the results.
"I found her videos," Sister Rita Callanan told the Los Angeles Times. "I wasn't happy with any of it."
'Unauthorised action'
The nuns then sold the convent (which has been vacant for four years) to Ms Hollister, who apparently plans to convert it to a boutique hotel.
The archdiocese has described the sale as an "unauthorised action".
It claims the Immaculate Heart of Mary Institute ultimately falls under the Pope's jurisdiction.
LA Archbishop Jose Gomez argues the nuns therefore had no right to make the deal, and claims to have papers signed by three of the five sisters giving him the power to sell the property on their behalf.