Prince music pulled from subscription streaming sites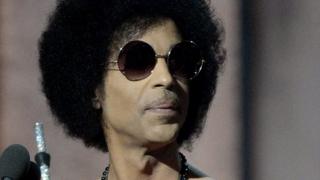 Prince has removed his music from a number of paid streaming services.
A message on the artist's Spotify page said his publisher had "asked all streaming services to remove his catalogue".
"We have cooperated with the request, and hope to bring his music back as soon as possible," Spotify added.
Prince's music is still available on iTunes, but not on Apple's new streaming platform, Apple Music.
It has also been removed from Rdio but is available on Jay Z's Tidal.
The musician has yet to explain the move, which coincidentally happened on the same day he released a new song - Hardrocklover - on Soundcloud.
Tidal has tried to win new audiences with exclusive content since its relaunch in March, following Jay Z's acquisition of the service.
It streamed much of Prince's Baltimore peace concert in May, held in the wake of the death of an African American man in police custody.
Prince has had a fraught relationship with modern technology. Initially an early enthusiast on online music, he declared in 2010 the internet was "completely over" and released an album as a CD insert with several newspapers.
Last year, he abruptly left social media, but recently returned to Twitter to promote his Hit and Run tour, announcing shows with little advance notice.
Representatives for Prince have yet to comment.