Gwyneth Paltrow uncouples herself from quote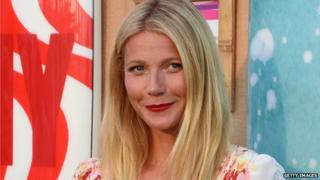 Gwyneth Paltrow has stated that she did not write that she "consciously uncoupled" when announcing her split from Chris Martin.
It appeared on her Goop lifestyle website last year in a post to announce the separation in March 2014.
She told business magazine Fast Company her editor came up with the phrase.
"When I announced that I was separating on the website, [Elise Loehnen] titled the piece 'Conscious Uncoupling' and I had no idea," she said.
The phrase became one of the most derided terms on the internet, with the Guardian calling it "deluded tosh."
"I just tell them that I think we are creating interesting discussions," she said.
However, Paltrow did actually use a version of the phrase in the text of the blogpost announcing the split, which was written under her and Martin's names.
"We have always conducted our relationship privately, and we hope that as we consciously uncouple and co-parent, we will be able to continue in the same manner," they wrote.
She also discussed the phrase on Howard Stern's US Sirius XM Radio show in January, admitting it is a "kind of a goofy term."
"I made a mistake in I didn't give it [the term conscious uncoupling] context," she said.
"I didn't say, 'this is... a philosophy'...I didn't know it was going to cause such a big thing."
Paltrow has also advocated the process of "conscious uncoupling" by posting an article about the philosophy on her website.