Spice Girl reunion 'not happening' says Bunton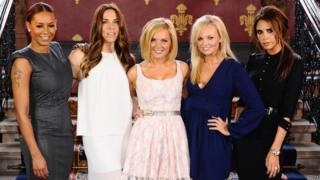 Former Spice Girl Emma Bunton has denied the group have agreed to reunite for a tour next year.
The Sun reported four of the five band members would be getting back together in 2016 - without Victoria Beckham - for an international tour.
But on her radio show, Bunton insisted "nothing's happening at the moment".
Journalist Dan Wootton, who broke the story, later tweeted "no official announcement will come until later this year".
Geri Halliwell, Melanie Brown, Melanie Chisholm and Bunton were reported to be planning a reunion tour, 20 years after their first hit Wannabe in 1996.
"If anything happens and it's concrete, and we decide on something, I will let you know," Bunton said on Heart FM on Friday morning.
Mel C tweeted: "Woke up this morning wondering whether I need to start practising my backflips???!!!"
To which Bunton replied: "Do I need to put my pigtails in?!?!?"
Last week, Mel B told Jimmy Fallon on The Tonight Show that "it's about time" for the group to get back together.
She followed up her comments on US TV's Today Show on Tuesday: "When you say it's our 20th anniversary coming up, it does make you think, 'Oh, my gosh, it really has been that long'." she said.
"Hopefully, we'll gather the troops around, and we'll get to do something to celebrate it next year. It's in my plan, I don't know about anybody else's."
The Spice Girls - dubbed Ginger, Posh, Baby, Scary and Sporty - sold more than 75 million records and had nine number one singles, becoming a cultural phenomenon when they emerged on to the pop scene in the 1990s.
Their debut album, Spice, made them the fastest-selling British act since the Beatles.
Halliwell left the group in 1998, amid rumours of a division among the five women. The remaining four continued to perform, but the group eventually split in 2001.
After much speculation they reformed for a 47-date tour in 2007. They performed together again at the closing ceremony of the London 2012 Olympics.
All five embarked on solo careers with mixed results, and have forged careers in TV and radio.
Mel B, a former UK X Factor judge, is currently a judge on America's Got Talent, while Bunton co-hosts Heart London's daily breakfast show with Jamie Theakston.