And Then There Were None voted top Agatha Christie novel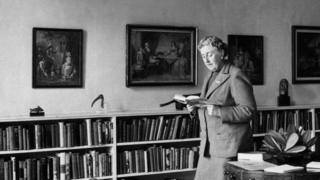 Murder mystery And Then There Were None has been named the world's favourite Agatha Christie novel in a poll.
The 1939 thriller received 21% of the votes, with Murder on the Orient Express and The Murder of Roger Ackroyd coming second and third respectively.
Fans were asked to choose a favourite to mark the 125th anniversary of Christie's birth on 15 September.
And Then There Were None depicts 10 strangers stranded on an island, all accused of getting away with murder.
As members of the party start to die mysteriously, the survivors realise they may be harbouring a murderer among their number.
The book - which does not feature Christie's famous detectives Hercule Poirot and Miss Marple - has sold more than 100 million copies worldwide, making it one of the most popular novels of all time.
'Staggeringly complex plot'
It received 21% of the votes in the online poll, run by Christie's estate, which attracted more than 15,000 respondents.
Christie's grandson Mathew Prichard, who is also the chairman of Agatha Christie Ltd, said: "It has been genuinely exciting to see fans from all around the world cast their votes for the World's Favourite Christie.
"In And Then There Were None, my grandmother has crafted a staggeringly complex plot, which has baffled, entertained and surprised readers since it was first published in 1939 and will, I hope, do so for years to come."
The novel, which Christie adapted for the stage in 1943, is currently being produced as a three-part mini-series for the BBC.
The TV adaptation has been written by Sarah Phelps (The Casual Vacancy, Great Expectations) and stars Poldark's Aidan Turner alongside Douglas Booth, Charles Dance, Anna Maxwell Martin, Sam Neill, Miranda Richardson and Toby Stephens.
And Then There Were None was also one of Christie's own favourites, even though it tested her writing skills.
The novel required "a difficult technique which was a challenge and so I enjoyed it, and I think dealt with it satisfactorily," she once wrote to a fan.