Russian Elton John prankster admits 'Putin call'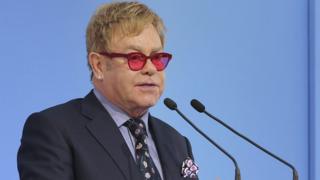 A Russian prank caller has said he and a colleague tricked Sir Elton John into thinking President Vladimir Putin had called him to discuss gay rights.
"He really believed he was talking to the people we said we were," said Vladimir Krasnov, known as "Vovan".
Sir Elton praised Mr Putin, having earlier criticised his "isolating and prejudiced" attitude.
But the Kremlin firmly denied the president had contacted the singer and hinted the call could have been a hoax.
Vovan has now admitted his involvement, telling the BBC and Russian newspaper Komsomolskaya Pravda that he made the call with his sidekick Alexei Stolyarov, known as "Lexus".
'Made my day'
"Alexei has excellent English so he played (presidential press secretary) Dmitry Peskov and translated our conversation. And I was Vladimir Putin," 'the prankster told the newspaper.
"It turned out that Elton John was really expecting that call, so he really believed he was talking to the people we said we were," he said, adding that the singer had been in a London recording studio at the time of the call.
"He said 'Thank you, you have made my day. This day and this conversation were the most wonderful of my life.'"
Vovan said part of a recording of the hoax call would be played on late night talk show Russian state TV on Wednesday.
The deception followed an interview Sir Elton gave to the BBC in which he said he would welcome the chance to meet with the Russian premier.
"He may laugh behind my back when he shuts the door, and call me an absolute idiot, but at least I can think I have the conscience to say I tried," said the performer during a recent visit to Ukraine.
Russia has been accused of failing to prevent and prosecute homophobic violence and has laws allowing individuals to be prosecuted for promoting "homosexual behaviour among minors".