Public to help choose UK Eurovision entry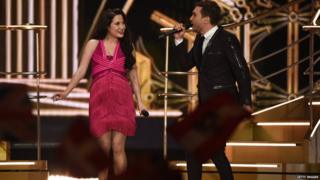 The public are to help choose the UK entry for next year's Eurovision Song Contest, following a string of poor results in recent years.
Songs will be shortlisted from open submissions, with the UK branch of Eurovision fan club OGAE helping to whittle down the entries.
The final decision will be taken by a professional panel and the public.
The 2015 entry was also chosen via an open submissions process but the song was selected internally by the BBC.
Electro Velvet ended up coming 24th out of 27 in the final in Vienna with just five points.
The closing date for 2016 submissions is 20 November. The Eurovision Song Contest takes place on 14 May in Sweden.
President of OGAE (Organisation Generale des Amateurs de l'Eurovision) UK, Alasdair Rendall, said: "Eurovision fans are never backwards in coming forwards about their thoughts on the UK's performance at the world's greatest music competition.
"I'm really excited about the opportunity this offers us to help find the right song to fly the flag for the UK in Stockholm next year."
The BBC, which runs the UK selection process, is also hoping to attract interest from established acts, writers and producers. It has appointed Hugh Goldsmith, founder of Innocent Records and former head of RCA, as a music consultant to help foster ties with the music industry.
Goldsmith said: "It is exciting to think... our Eurovision entry will better reflect the extraordinary writing talent we have in our midst."
The British Academy of Songwriters, Composers and Authors (BASCA) is also involved and will run a song-writing contest amongst its members, which organisers hope will raise the standard of entries.
Graham Norton, BBC One's Eurovision host, said: "Eurovision is one of the highlights of my year and I love the fact that the BBC is launching its biggest song search ever."