David Schwimmer to star in new Channel 4 sitcom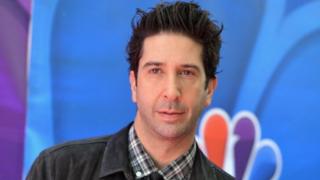 Friends actor David Schwimmer is set to star in a new Channel 4 comedy series about a failing breakfast TV show.
In Morning Has Broken he will play a US TV producer brought in to save the show.
The six-part series will air in 2016 and is written by, and co-stars Julia Davis and Nick Mohammed.
Channel 4's commissioning editor, Rachel Springett, expressed delight that the broadcaster had landed Schwimmer.
"Julia is undoubtedly one of our most talented comedic writers and actresses and it's a testament to the quality of her writing that she can attract such a big star," she said.
Davis will play the role of Gail Sinclair, the Queen of Daytime and star of Good Morning...with Gail Sinclair.
She said she was "looking forward to experimenting with friends whose work I love".
Schwimmer, who has mainly been working behind the camera and on stage since his 10-year stint on Friends ended, added: "I've been a massive fan of Julia's for years, and I'm thrilled to be able to finally work with her and Nick on this fantastic comedy."
Schwimmer is the second former Friends star to appear in a British TV comedy.
Matt Le Blanc has achieved international and critical success in the BBC's Episodes.