Bruce Forsyth pulls out of variety show after home fall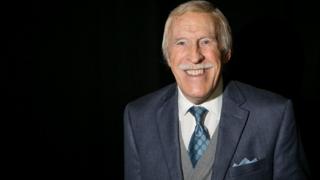 Sir Bruce Forsyth has been told by doctors to have complete rest for at least a week after suffering a fall at his home.
The 87-year-old went to hospital following the fall and pulled out of presenting his BBC variety show Bruce's Hall Of Fame.
Speaking after his fall, Sir Bruce said he was "really sad" not to be part of the programme.
Pointless presenter Alexander Armstrong will take over as the show's host.
Sir Bruce said: "I was really looking forward to this show and working with such a talented cast, and I am really sad not to be part of it.
"It is now in the most capable hands of Alexander Armstrong and I would like to wish him, the guests and the whole production team good luck on Sunday."
In a statement, the show's production company Kalooki Pictures said: "This morning, Sir Bruce Forsyth slipped and fell at his home resulting in facial abrasions and minor concussion.
"He attended hospital and had a series of scans and tests all of which happily proved negative.
"However, because of his injury, he has been told by doctors he must have complete rest for at least seven days."
Sir Bruce had to pull out of hosting Strictly Come Dancing after being taken ill with flu in October 2013.
He announced he was leaving Strictly Come Dancing in April last year and Claudia Winkleman took over his role, alongside his regular co-host Tess Daly.
Bruce's Hall Of Fame, to be filmed in London's Dominion Theatre, is expected to be screened in the new year.