Meryl Streep to chair 2016 Berlin Film Festival jury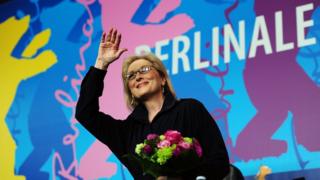 Oscar-winning actress Meryl Streep is to serve as jury president at the 66th Berlin Film Festival next year.
It will be the first time the star has served on a festival jury, and Streep said she was looking forward to it "with great relish and anticipation".
The 66-year-old shared the Berlinale's Silver Bear award with Julianne Moore and Nicole Kidman for their performances in The Hours in 2003.
She was also awarded the festival's lifetime achievement award in 2012.
"The responsibility is somewhat daunting, as I have never been president of anything before," Streep said.
"I hope I can come up to the precedent set by the distinguished juries of preceding years. [I am] grateful for the honour."
• BBC Entertainment Live: News updates
Creativity and experience
The festival's director Dieter Kosslick described the Mamma Mia and The Iron Lady star as "one of the most creative and multifaceted film artists".
He added: "I am very happy that she is returning to Berlin and with her artistic experience will take on the chairmanship of the international jury."
The jury chooses the winners of the awards at the festival, which will run from 11-21 February next year.
Streep has amassed 19 Oscar nominations over more than 35 years. She has won the best actress Academy Award twice - for The Iron Lady (2012) and Sophie's Choice (1982), as well as best supporting actress for Kramer vs Kramer in 1980.
She is currently appearing on the big screen in Suffragette and will next star in Stephen Frears' Florence Foster Jenkins - the true story of a New York heiress who dreamed of being an opera singer, despite having a terrible singing voice.